Adapted by Patrick Barlow from the movie by Alfred Hitchcock. Queensland Theatre. Directed by Jon Halpin. Cremorne Theatre, QPAC, Brisbane. February 24-March 28, 2018
The program sounds exhausting - four actors playing 139 roles in an Alfred Hitchcock suspense thriller with a twist.
What is exhausted in this devilishly clever two hour production is every ounce of imaginative stagecraft, every accent known and exaggerated, and every seat in QPAC's Cremorne Theatre.
Queensland Theatre's The 39 Steps is sold out, which is frustrating because the moment it finishes, there's a great urge to get another ticket and see it again.
It is a farce, a murder mystery, a comedy, a romance and riotously good fun.
The story follows an unassuming Canadian gentleman, Richard Hannay, whose hospitable nature lands him in the middle of a national security crisis in 1930s Britain. He has to stay ahead of a pack of spies while racing through the Scottish Highlands trying to find out what the 39 Steps are.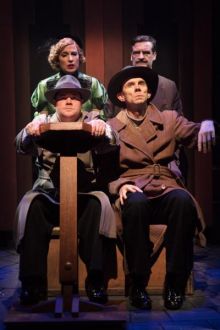 The breath that gives life to the characters in Patrick Barlow's script belongs to four of Queensland's most endearing thespians: Hugh Parker, Liz Buchanan, Leon Cain and Bryan Probets. In some scenes, Probets and Cain work on characters like paramedics performing CPR on a patient. Probets fills the character's lungs with air to begin a sentence only to have that sentence taken over by Cain who has, in the passage of a few short seconds, morphed into that character, allowing Probets to finish his own sentence as someone else.
It might sound confusing but to see the transformation on stage is like watching a magician's slight of hand during a card trick, it is seemless and totally believable. The influence of choreographer Chris Horsey and dialect coach Helen Howard cannot be underplayed in such scenes.
David Murray showcases his masterful talents in the lighting department, at one point turning a static stage into a fast-moving train all with a play on lighting, while our accidental hero clings to the outside of the carriage to escape capture.
That accidental hero is Richard Hannay, played with great affection by Hugh Parker and only Hugh Parker for the entire show. While Liz Buchanan, playing Annabella Schmidt, Margaret and Pamela, is a little less schizophrenic than Probets and Cain but no less entertaining.
There is no rest in this production, no matter how many beds or resting places pop up, it is fast paced from beginning to end and an example of the stellar talent working in Queensland at the moment.
If Jon Halpin's production comes to a theatre near you in the future, don't hesitate to book tickets. The only thing left to say to cast and crew is: "Thank-you! Thank-you!"
Debra Bela