Adapted by Patrick Barlow from the novel by John Buchan and Alfred Hitchcock's The 39 Steps. Director: Terence O'Connell
. Hit Productions. The Q, Queanbeyan, 8-12 October 2013 and touring Australia
If you're partial to noir thrillers and like your humour hammy, you'll enjoy The 39 Steps. Based on Alfred Hitchcock's 1935 classic thriller, this adaptation is a top class piss-take. Mike Smith gets to show off his dashing strut and pencil moustache flaunting skills as hero Richard Hannay, while Anna Burgess hams the bejesus out of three femmes fatale, using wigs, gorgeous makeup and overacting to perfection to distinguish mysterious foreigner Annabella, unworldly Scottish Pamela and ditzy Margaret.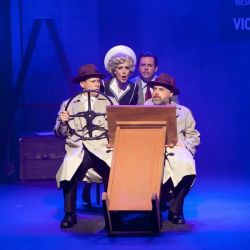 The rest of the dozens of characters are split between Sam Haft and Michael Lindner. They switch between their characters with lightning onstage costume and prop changes with faultless co-ordination and timing.
My companion and I had great fun, but felt the energy flagged occasionally. Maybe it was just an anomaly on the night we saw it, but perhaps it was the decision to have Richard Hannay as the straight man? I would have like to see how it worked with Hannay played with more of an exaggerated deadly earnestness. It probably also helps to be familiar with the original film – huge amounts of the script are verbatim and needs surprisingly little amendment and exaggeration to be self-parody.
That said, it's definitely guffaw material. Recommended.
Cathy Bannister