Music by Harry Warren, Lyrics by Al Dubin. Book by Michael Stewart & Mark Bramble. Presented by Free Rain Theatre. Directed by Chris Baldock. The Q – Queanbeyan Performing Arts Centre. 26 March – 15 April 2018
It's 2018, and we can add 42nd Street to the list of things that Harvey Weinstein has sort of ruined for us. Look at Abner Dillon – old, gauche, his only attractive quality his wallet…there's no question why poor Dorothy Brock is with him, or what she does to maintain his patronage. And then, there's the no less problematic Julian Marsh, who not only sweeps in for unwanted kisses, he also casually calls a hitman to rough up someone's boyfriend… It's almost impossible to view 42nd Street in the original context now.
But this is what Free Rain's latest production does. Unashamedly nostalgic for any time prior to 2015 or so before the manure hit the fan, this production stays true to the spirit of the Broadway original.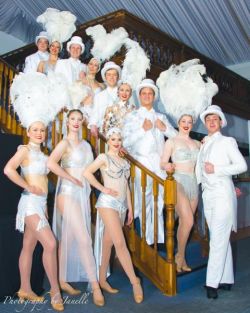 Sophie Highmore makes an adorable, fresh-faced Peggy Sawyer. Hers isn't a big voice but it's youthful and vibrant, and her dance is beat perfect. Her version of the signature "Forty-Second Street" is a highlight. Jarrad West's Julian Marsh is amiable and his voice fabulous as always. His and Peggy's duet takes "Lullaby of Broadway" a little bit slower, bluesier and dreamier than I've previously heard it. Peggy and Billy Lawler (played by Sam Ward) do an enthusiastic job of the duet Young and Healthy (even that sounds creepy these days, damn you Weinstein!). Meanwhile, Louiza Blomfield positively sparkles as Dorothy Brock, bringing her big, rich voice to "Shadow Waltz" and "You're Getting to Be a Habit With Me".
For the most part, the stage design was great, with some cool Hollywood-esque elements, and the costumes were sparkly and fabulous. What worked less well was the LED projected backdrop. While it was fine when it was used for neon signage, some of the other image choices didn't meld well with the rest of the design.
A strength of this show, however, was the band (which was note perfect) and the tap routines. They weren't completely rhythmically flawless, but they were solid, vibrant and exciting and given that Canberra doesn't have an awful lot of tap classes, getting this many good dancers on stage is near miraculous.
It's always fantastic to see and hear this production done well, however dated the subject matter might have become.
Cathy Bannister