By Richard Tulloch (adapted from the book by Andy Griffiths & Terry Denton). Directed by Liesel Badorrek. Arts Centre Melbourne Playhouse. 4-19 January, 2020.
As part of the Families Summer/Autumn program Arts Centre Melbourne presents a CDP Kids Production of this delightful instalment of the Treehouse adventures. Griffiths & Denton beautifully capture the innocence and candour that childhood offers. This production provides a colourful and faithful reproduction of the adventures in the book. Those familiar with the story will immediately recognise all the favourite places and people that populate the Treehouse stories.
However, the show is also accessible to those who are not familiar with the book as the simplicity of the story easily draws in newcomers. The central characters, Andy (Samuel Welsh) and Terry (Teale Howie), who essentially replicate the authors, make an adventure of both the ordinary and the extraordinary. They are accompanied by their neighbour Jill (Rebecca Rolle) who often has to help them out of some tight situations, frequently created by their encounters with the mischievous fortune teller Madame Know-It-All (Samantha Young).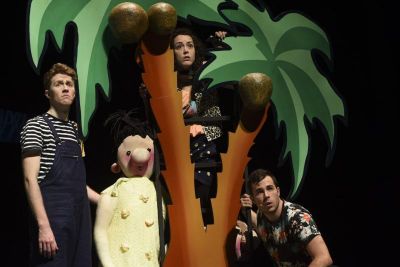 The staging of the show recreates the magical and labyrinth nature of the treehouse and employs simple but effective staging and lighting techniques to evoke the various strange and absurd settings: a powerful whirlpool, a giant spider web and a submarine sandwich all become a part of the challenge to babysit Mr Big Nose's unruly grandchildren. Here the production employs some puppetry which gives these characters an adorable and endearing quality.
This production provides an avenue to indulge in the joy the book series gives to so many young minds and helps to inspire children to treat their day-to-day existence as a series of challenges to be overcome simply and in the best way they can.
Patricia Di Risio
Photographer: Heidrun Lohr