By Thor Bjorn Krebs, translated by David Duchin. Directed by Kat Henry. Red Stitch Actors Theatre, 2 Chapel St, Kilda. April 26 - May 25, 2013.
About Tommy is a challenging piece of theatre to stage. Translated into English from Thor Bjorn Krebs' original Danish, it presents us with windows into the experiences of a young Danish soldier sent to 1990s Yugoslavia as part of the UN peacekeeping force. Plunged into the midst of the Serbo-Croat conflict, Tommy and his fellow soldiers are in the difficult situation of being unable to initiate fire against enemy attack even when their own lives are directly threatened - and this is just one of many complexities confronting them in the war-torn, alien environment.
The subject matter is unrelentingly grim and often harrowing, despite the occasional glints of black comedy which the soldiers find in their situation. Their stories are presented documentary-style, with characters recounting them anecdotally to the audience.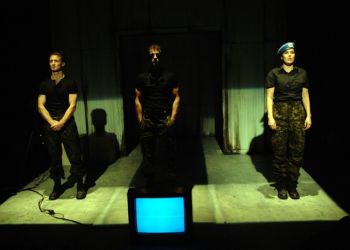 This reliance on spoken testimony, as opposed to dramatised events, weighs down the play's presentation, and in the hands of a lesser director and actors could render it very tedious. Thankfully, Red Stitch's Kat Henry and actors Matthew Whitty, Paul Henri and Kate Cole are up to the difficult task of bringing the piece to life. All three actors did a exemplary job but special mention must be made of Whitty who did not falter once throughout a truly tough performance wherein he's required to embody Tommy's journey from everyman soldier to tortured veteran, climaxing in a breakdown scene which he delivered with absolute conviction - and made all the more challenging by his having no one else to play against.
The starkness of the piece was well complemented by the set design but the presence of a too-small 4:3 TV at the foot of the stage displaying documentary war footage was both distracting and superfluous. Many audience members would not have been able to see it, besides which we are all too familiar with footage of this nature -- and the actors certainly didn't need it.
The subject matter makes this play in some ways a tough sell, and at times the audience seemed suitably unsettled, at others unsure how to respond -- the occasional black humour met with a few tentative, awkward chuckles. The script might have been improved with more dramatisation of events rather than documentary-style recounting. But make no mistake: this is a play well worth seeing, with some very perceptive observations to make about how young men cope in war, about camaraderie, about how men bond and what ties them together. And it is a showcase for some top-notch acting, delivered with admirable dedication and absolute professionalism.
Alex Paige
Images: Matthew Whitty & Paul Henri, Matthew Whitty and Kate Cole. Photographer: Jodie Hutchinson.