By Dario Fo. Epicentre Theatre Company. Zenith Theatre, Chatswood. June 22 – 30, 2012.
True to Fo's commedia style and didactic humour, this production is bright, fast and Funny. It mixes traditional and contemporary slapstick, adds live music, a song and some running gags, but still keeps the sting of Fo's satirical message to the ordinary man.
Ben Wilson and Alice Joel have collaborated to design a set and costumes where realism and expressionism blend and contrast effectively. Realistic office furniture is set back against high expressionistic windows, and a huge, glowering portrait of Guilio Andreotti , which slides to reveal the band. The front of the stage is bare, allowing space for fast action chases, swivelling chairs and Zanni routines that break through the fourth wall in true Fo style.
The addition of the band is innovative and its initial revelation is effective. In all, directors Michael and Con Costi have created a production that is true to Dario Fo's script and style yet has contemporary feel and appeal.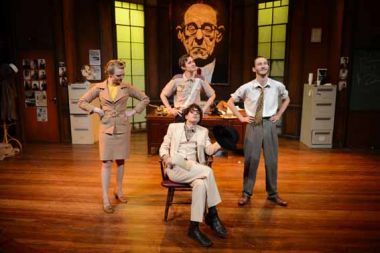 They make the relatively young cast work hard and fast for much of the production, which has a genuine ensemble feel that is a credit to their direction. They have obviously worked hard on developing and rehearsing routines and helping their cast find and establish the strength and veracity of characters, so essential for the style and pace of this play.
Con Costi, himself, plays the Maniac, controlling every moment. Energy, timing and tempo are vital in this role and Costi doesn't let up for a moment. His lithe movement and spot-on timing set a fast pace to which the rest of the cast must rise in order to sustain the rhythm. Stephen Lloyd Coombs as the Constable provides his perfect foil. He is great straight man. His timing and expressions are perfect – and the audience loves him!
As the Superintendant and Pissani, the corrupt police officers, Emily Sheen and Jasper Garner Core work well together as the Maniac, posing as a judge, manipulates them to admit that the death of the anarchist was anything but 'accidental'. Jessica Leafe is a youthful but energetic Bertozzo and Meg Briggs fills the role of the journalist Feletti effectively.
While some of the cast are young to be really believable in their roles, the overall energy and vitality of the production is a tribute to their youth and enthusiasm and their very talented directors.
Carol Wimmer
Images: Chris Lundie