By David Javerbaum. Darlinghurst Theatre Company. Eternity Playhouse, Darlinghurst, NSW, Feb 2 - 25, 2018
Self-proclaiming "three-time Helpmann Award-winner" Mitchell Butel is here the vessel through which God steps down to revise with us his now musty Ten Commandments.
It's a God, of course, more queenly than godly, an acidic, point scoring showman who, while correcting many of our biblical misunderstandings, ends a little conflicted about his values.
A cabaret-style monologue developed by US talk show producer David Javerbaum from his popular blog, this heavenly egotist is well steered by Butel and co-director Richard Carroll into more global, sometimes Australian satire. And there's a threatening amount of audience participation, including when Adam is selected, a rib taken, and his ideal partner created, a well-hung Steve.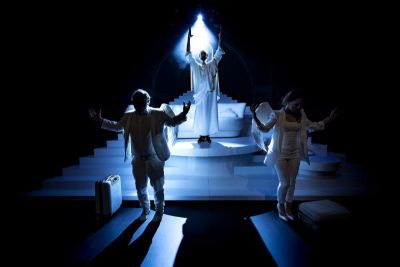 On a talk show couch half way up a white staircase, Mitchell teases, carps and unburdens himself, while flanked by his bullied Angels Gabriel (Laura Murphy) and Michael (Alan Flower). No wonder humanity has problems if we're made in his image – as he confesses, he's an arsehole! And globally it gets dangerous when God is not only incompetent, but omnipresent.
Other interesting theological questions get light handling in Javerbaum's random but often hilarious cruise, and naturally we end with a big musical climax. Butel masterfully sustains our attention, leaping between Javerbaum's text and campy asides, spontaneous and otherwise, even if his theatrical punctuation inevitably gets a little slurred.
I'd prefer his God presented as more conventionally 'true', to make sharper the contrasting satire, but this is 75 minutes which rarely flags. And Charles Davis' appealing set is artfully lit by Katie Sfetkidis.
Martin Portus
Photographer: Phil Erbacher.