By Andrew Lippa, Marshall Brickman and Rick Elice. The South Coast Choral and Arts Society (SA). Victor Harbor Town Hall. 4-18 May, 2019
Based on the popular eccentric characters created by cartoonist Charles Addams as well as the internationally successful TV show, The Addams Family – A New Musical was first produced on Broadway in 2010. Whilst it was only modestly successful, nonetheless, this musical has proven to be extremely popular with audiences throughout the world and is seemingly in constant production. This is quite understandable for numerous reasons, but primarily because at its heart it is about 'family love'.
Wednesday Addams, the dark and melancholic daughter of Gomez and Morticia Addams, has fallen in love with Lucas Beinekes, a relatively 'normal' young man. As we learn from Wednesday's Uncle Fester and the Chorus of Addams Family ghost, they plan to elope to get married, and it is this journey of 'love' that is the story of this delightful musical. In order to do this, however, Wednesday must break a sacred Addams Family ethic and keep a 'secret' and basically lie to her family, particularly her mother Morticia. Things become more complicated when Wednesday persuades her father, Gomez Addams, to help her. Gomez then faces the dilemma of having to keep a secret from his wife. Adding to this, Lucas and his parents have been invited to dinner at the Addams' creepy mansion. Morticia, however, has become suspicious and after the dinner, demands that everyone plays a game called 'Full Disclosure'. The result? Catastrophe and disillusionment! However, all is finally resolved due to the power of 'family love'.
Directed by Jonathan Ogilivie, with Emma Muhlack and Tim Wormald (Musical Directors), Jack Doherty (Choreography) and Millie Doherty (Costumes), the South Coast Choral and Arts Society's production is absolutely wonderful. The production moves swiftly and clearly, which is quite an achievement in itself considering the various locations and situations as well as the number of people involved.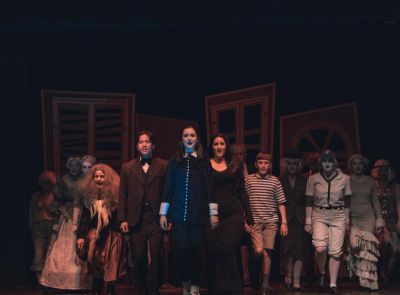 One thing that makes The Addams Family a stand-out in regard to 21st Century musicals is the clever use of the Chorus. In this musical the Chorus of ghosts are active participants in every scene, either as spectral observers, commentators, or supporters of the major characters. This is exemplified by the climactic moment when Wednesday and Lucas test their love as to whom is "Crazier than You" with Wednesday shooting an apple with a crossbow and arrow off Lucas' head. Lucas ups the stakes by insisting Wednesday is blindfolded. Things look deadly, however it is the family ghosts who guide the arrow so that Lucas is unharmed, and he and Wednesday reaffirm their love for one another.
This is just one example of how the Addams Family Chorus is an intrinsic part of the story-teller and not just an adjunct. It is how the creative team behind this production have successfully and cleverly integrated the Addams family Chorus that makes this production a stand-out.
The leads are also terrific. In particular, Greg Eden (Gomez), Georgia Martin (Morticia), Jon McKay (Uncle Fester), Bill Reddin (Lurch), and Megan Davidson (Wednesday). I also loved Emma Lynn as Alice Beinekes, Lucas' mother, who has a penchant for speaking in rhymes – hilarious!
There are so many wonderful songs, beginning with the opening ensemble number "When You're an Addams". The stand-out number, however, is Morticia's sardonic "Death is Just Around the Corner" that climaxes with Morticia and the Chorus doing a fabulous 'kick-line' that had the audience cheering.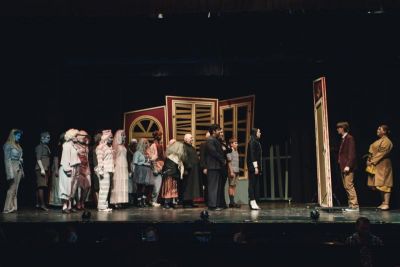 Georgia Martin was simply wonderful as Morticia Addams, in this number and in the rest of the show, as was Greg Eden as Gomez Addams.
The final 'tango' number that reunites Gomez and Morticia at the end of the show was another example of the cleverness and attention to detail by this production's creative team, and in particular costume designer Millie Doherty. In this number Morticia must reveal her legs and her usually tight fitting dress must open so that she can 'tango' with Gomez. This was successfully achieved – not by using sound crunching 'velcro' but through a 'zipper'. Whilst this may seem a minor issue to some, it is in fact a considerable feat and full praise should go to Millie Doherty for going against the easy but noisy 'velcro' convention and getting a silent 'zipper' to actually work. Wonderful!
I attended the first preview performance of this production of The Addams Family, which opens on Saturday May 4. The standard was very high and will only improve. I thoroughly recommend this production. It is full of creepy fun and performed with great commitment and skill by the entire ensemble.
Tony Knight