Paul Rodda, Nicole Russo, Kim Clayton, Daniel G. Taylor and David Grybowski with Adelaide Fringe Festival Reviews
Bec Hill Didnt Want To Play Your Stupid Game Anyway

Roly Poly Grandma Productions. Rhino Room - Mar 1 to 12
A well orchestrated set, but the laughs could have been thicker.
Set in the familiar Fringe comedy venue the Rhino Room, Bec Hill pulled a good audience. Off the back of her 5 star reviewed Edinburgh tour she Themed her show around growing up and moving on into adulthood, the set is entitled "Bec Hill Didn't Want To Play Your Stupid Game Anyway". With a variety of media including flip charts and props Hill takes her audience on a comedic journey through dealing with new babies, old school friends and working in customer service. The comedy is all very intelligent and well timed, but the laughs are a little to spaced out. Still the audience seemed to love it, and the Australian born, Brit living comedian had the vibe lifted and the audience jovial throughout - even with her psuedo English accent. Not quite achingly funny, but definitely worth the price of admission!
Paul Rodda
Changing the Pace
Presented by Pearson, Prodea, Lloyd and Dempsey. The Butterfly House
A relaxed cabaret evening at the Butterfly House is definitely in order when the four performers of Changing the Pace take to the stage.
Michelle Pearson, Lindsay Prodea, Brady Lloyd, and Kate Dempsey give their audience 1 hour 20 minutes of well-loved songs from their repertoire of favorites. Loosely themed, the show jumps around a bit in terms of a narrative, but it is clear that the performers are having fun, and so is the audience.
Songs included Superstitious, The Facebook Song, Joyful Joyful and Harry Connick Jr.'s Whisper Your Name. There were some very personal choices in the song selection, all were great tunes but not all necessarily made great performance pieces.
There was some opportunity for improvement in the sound department. The four performers, with varying voice strength and quality continually rotated microphones, which meant a good sound balance was never established, some obviously beautiful harmonies were therefore lost – individual sound checked levels would have really benefited the show.
This is a great show which would benefit from the eyes of a director to perfect and polish, but this un-polished gem is still a pleasure to watch!
 
Sit back, grab a glass of vino and enjoy the cabaret vibe as these four consummate performers provide a light and entertaining evening at the Butterfly House.
Paul Rodda
Kashkul Ensemble
Presented by Behnoosh Aryanpad. Nexus Cabaret.
Kashkul is an Adelaide based traditional Persian ensemble bringing the exotic sounds of ancient Persia to the stage. Their music, set to classical and traditional poetry uses a range of traditional instruments including the Tar (Lute), Kamancheh (Bowed string instrument), Oud (Lute), and Daf (frame Drum). The music is very beautiful and relaxing, and transports the audience to another place.
There often seems to be an assumption made by world groups that their audience will all be familiar with the music. Often this is not the case, and music aficionados are in the audience hoping to experience something new. Kashkul provides this, but like so many world music bands neglects the education component. An introduction and brief history of the instruments at the top of the show would have really aided in the appreciation and invested the audience in each song. Further to this, a brief description of each number, explaining the origins and inspirations of the song would have given context to the piece.
Context provides the basis which engages an audience. A good CD album has a story line that draws you in. This performance made for great ambient music which would have accompanied a nice meal and some great coming, perfectly. Without the story line however, without context, it eventually lost its intrigue and became a struggle to sit through. The ensemble was an outstanding group of musicians, but this performance craft would have made their set more engaging.
There was an awkward amount of instrument tuning prior to the opening number which could have been done before the audience entered, and throughout the show more issues with re-tuning for later pieces.
Unnecessary fold back had been provided for the performers, which created feedback early in the show, and some of the microphone levels were too high. The skill of these artists was still clear to see despite these technical and structural issues however.
It was amazing to watch the sound that can be achieved by one drummer on a Daf. The drum (a skin stretched over a timber ring resembling a large tambourine with metal rings hanging inside it) was reminiscent of an entire military marching band!
It was a pleasant performance of some incredible music, performed by highly skilled masters of these instruments. With the addition of a story to take us through the show, it would be a great night's entertainment.
Paul Rodda
DeAnne Smith
Winners at Life in association with Campfire Collective. Rhino Room - Downstairs, Mar 1 to 12
DeAnne Smith: tiny, witty, musical, and technologically challenged - well, mainly just in GarageBand. Oh, and a lesbian. I don't think she'd mind me mentioning it since she does... A lot! But it's all very funny and in context so it works to her advantage. On her second visit to Adelaide in under 6 months, Smith has brought mostly new material to the 2011 Fringe with just a bit of overlap from last year's efforts. About Freakin' Time pokes fun at various parts of daily life, big and small. Relationships and religion get high rotation amongst a swag of hilariously dry quips and tongue-in-cheek musical comedy, with accompaniment from electronic ukulele. Smith divulges the pros and cons of love and life in an all-female partnership and reveals her take on god, politics and dolphins. Her musical interludes are clever and funny, and she manages to successfully fill 6.5 minutes of spontaneous hilarity based entirely on audience suggestions. Smith delivers a great night of laughs but FYI: you may find yourself promising to write her a theme song in GarageBand before you can leave!
Nicole Russo
When Harry Met Harry.
Adelaide Fringe 2011. Flaming Locomotive Productions. Written and Performed by Allan Girod. Bakehouse Theatre. February 28 - March 5, 2011.
Nine out of ten one-man shows are a waste of time and money. Most performers lack the talent and gravitas to hold your interest for a whole show.
When Harry Met Harry tells the story of Dilbert-photocopy Harry, whose personal and work life is governed by routine. He's so disciplined because he's avoiding his past. His tightly wound world becomes unstrung when he meets Harry, the corporate trainer.
Allan Girod has written a piece that's like a meteorite through the funny bone as it engages the audience.
As Harry the trainer, his performance combines the skill of a clown with a knowledge of body language. He exaggerates Tai Chi movements, and then when he adds self-help body language in a slow motion parody, he alters the emotional state of the audience. Those altered states are, of course, the reason why so many people pay big money to self-help gurus.
While as a guide, one-man shows should be avoided like someone with a cold sore on their lips trying to kiss you, this is the one in ten that is worth seeing.
Daniel G Taylor
Burlesque upon a time
Peaches and Gin. Nexus Cabaret – Feb 21 to Mar 5
South Australian based Peaces n Gin are a burlesque cabaret group with loads of potential, rolled into a sexy, sultry performance extravaganza. All that is required is the polish.
In the perfectly intimate venue of the Nexus Cabaret, the Peaches n Gin experience begins with introductions from M.C Rohan Watts, and singer Cara Brown. Bantering with typically low quality burlesque humor perfectly suited to the genre, they show us a little of themselves (Brown literally so in a beautifully busty corset) and warm the audience up for the performances to follow.
The theme is "A fairy tale" and the show begins with the opening of a story book, and the over worn phrase "Once upon a time…" Audience participation is encouraged with boos, hisses, oohs and aahs at scripted points throughout the show, which builds the mood and gets the room energized.
Dancers Luna Eclipse and Sapphire Snow are the main entertainment. Dressed up in decadent themed costumes they provocatively entertain their audience with cheeky, sexy choreographed routines whilst slowly removing their outfits to reveal their raunchy underwear and a range of clever and quirky nipple tassels.
Individually they are excellent, particularly Luna who really knows how to work her audience, but together they seem under-rehearsed with poor synchronicity and timing. Cara Brown sings beautifully, but is hampered by below average sound quality which is jacked way too high and causes constant feedback and bass rumbles. Watts is great as M.C when he lets go of his script and delivers from the heart, and his witty humor with Brown is often a show highlight. Cameos from David Salter as the handsome prince are standouts, as he hams up the acts and gives the audience a great laugh.
A director for this production would go a long way to alleviating a lot of the minor issues that stop this burlesque flower from blooming. Bucket loads of potential, a few more runs will hopefully see this cabaret blossom.
Paul Rodda
Arj Barker – Eleven
Mary Tobin Presents. Arts Theatre, Feb 17 to Mar 12
With an hour of old style, no-frills stand-up strapped to his funny bone, Arj Barker announces himself with some fairly competent harmonica playing and oddball musical comedy.
As always, he puts on a night of good laughs with his signature deadpan wit. Often hilarious, his shows still have plenty of laughs in them but the style is starting to feel out-of-date. The problem with Arj Barker is that he's a bit like pulling on an old jumper. Much loved and well worn, you keep going back because it's comfortable and enjoyable but the holes are starting to show.
A regular fixture year on year, he always draws a loyal and appreciative crowd but one imagines he would struggle to win over any new fans with this material. There are no laugh-so-hard-your-stomach-hurts moments, and you don't leave with a feeling like you needed any more. Barker just needs a few more tricks up his sleeve, he's a great comedian but he suffers the same affliction as a friendship-with-benefits that's run its course - it was fun the first few times but the excitement's worn off.
Nicole Russo
Flhip Flhop
Rannel Presents. Adelaide Town Hall – Meeting hall, Feb 18 to Mar 12
Despite the unlikely and somewhat obscure setting, nicely smoothed over by a guided arrival, the duo of Matt Bailey and Joey D is dynamite. Mix ing slapstick, beatbox, breakdance, decks and physical theatre, they pull off an hour of fun and lively comic relief.
This is a well-choreographed show, tight and entertaining. As performers, these boys are versatile and have a lot to offer beyond classic comedy routines and a few hip-hop tricks. For starters, they can actually act! An obvious requirement for a theatre performance perhaps, but so often poorly represented in breakthrough artistry.
Their comedy hits the mark; both physically and vocally the Flhip Flhop crew bounce off each other with practiced ease.
This is a great family show, sporting an afternoon time slot and comedy that all ages can enjoy. A small criticism might be that there is almost too much story in the piece, it's slow to get started and you sometimes catch yourself wishing they would shut up and breakdance some more.
Great stuff though, well worth a look.
Nicole Russo
Mussolini: A One Man Political Farce
Guy Masterson's Centre for International Theatre (CIT). Higher Ground - Feb 18 to Mar 13
This curiously titled show is another wonderful production presented by Guy Masterson's CIT, which – like a number of CIT's productions – is a narrative about an historical political figure of some significance. In this case, actor and co-writer Ross Gurney-Randall delivers a one hour insight into the mind of Italian fascist dictator Benito Mussolini.
The play concentrates on Mussolini's flight from the Allies and Italian partisans and, like Adolf and I Elizabeth the central character presents an explanation about what he has done and why. Needless to say it falls far short of a justification and serves to paint Mussolini as the absurd out-of-his depth political figure that he eventually turned out to be, despite his not insignificant self-education and study of the classics. Gurney-Randall blends fact with black humour and intimidates the audience with his gesture and intense eyes as he moves Mussolini from the statesman who loved a stage to a cowering criminal. It is a fine performance set on a minimalist stage with stark and evocative sound and lighting effects, and a collection of properties that are cleverly used to connect and drive the story.
This one is worthy of your attention.
Kym Clayton
The Interminable Suicide of Gregory Church
Written and performed by Daniel Kitson. Adelaide Town Hall
The promo piece in the Theatre section of the Fringe Guide suggested that this would be an interesting production, and it was, but it was nothing like what I expected. Was it theatre? Maybe – it was scripted – but it was also stand-up comedy and it appeared that that was what the diverse audience was expecting. However, trying to be both theatre and stand-up is fraught with danger. The performance was very funny on many occasions, but it also dragged on– almost interminably. It was overwritten. The fictitious subject matter was dark – about Kitson stumbling across and reading thousands of letters written by fictitious Gregory Church who was contemplating suicide, or was he? Kitson has a way with words, and his text is amongst the most sophisticated language I have heard in a stand-up routine for a long time. As a performer he is confident and relates well to his audience, and he walks the fine line between delivering set text and improvisation depending on audience reaction. Kitson clearly has a following – the cavernous Adelaide Town Hall was half full which makes for a sizeable audience, but fine theatre it was not.
Kym Clayton
Lila Gray
Emma Clair Ford. Austral Hotel - The Bunka, Mar 1 to 11
Lila Gray is not your average southern belle. As neurotic a soul as you could ever have the misfortune to be cursed with, she is easily bored, impulsively evil, and very, very disturbed. Oh, but also very funny!
In this dark cabaret comedy, written and performed by Emma Clair Ford with accompaniment from Matthew Carey, we are introduced to Lila and the many lives that she has co-inhabited. A sentient being, she is randomly assigned to humans with the responsibility of helping to guide the path of their lives. Unfortunately, all too often these partnerships end prematurely as Lila has a tendency for encouraging homicidal thoughts and activities when bored.
This is a hugely enjoyable show that is well written and executed. Both comic and captivating, Ford reveals herself to be an accomplished actor as well as a beautiful vocalist. She cloaks herself in Lila so masterfully that you find yourself completely immersed as you watch. Having conquered the Southern accent, Ford's Welsh effort needs just a little more refining to improve consistency, but this is a small criticism in a brilliant piece.
Nights like these are a wonderful reminder of the importance of the Fringe festivals. While it can sometimes feel like you are wadding through an ocean of mud to find glimmers of hidden genius, it's all worth it when you see a show like this. Simply a pleasure to experience, it deserves a forum on which it can be seen and heard, and we deserve the chance to enjoy it. Bravo.
Nicole Russo
Smiler
Guy Masterson's Centre for International Theatre (C.I.T.). Higher Ground – 1 to 13 Mar
This is powerful theatre. A monologue, written and performed by Richard Fry, most recently known for his sell out production of 'Bully' which toured the Edinburgh fringe and came to Adelaide in 2010. Fry is a talented actor and writer, his perfectly constructed piece begins normally enough, establishing a wonderful context of the relationship between him and his mate, Smiler.
The show primarily tackles the issue of disability, our reaction to and treatment of it, and the impact it has not only on the disabled, but the people who know them, love them, and support them every day.
What Fry does that is important, is start from the relationship itself – not from the disability. It's not until 10 minutes into the script that you even learn that his friend was injured by a drink driver at the ripe age of 18. We never meet Smiler, but we know him, we see him in our friends, our loved ones and our relations, and we understand the bond that exists between these two adolescent males.
The subject matter is confronting. The structure is perfection. The outcome is both heartening and saddening. Good luck holding back your tears.
Fry starts, in rocking lawn chair, hugging his pillow with a simple, joyful smile on his face. This pillow becomes a metaphor for release throughout the production. Fry utilises the space, and his physicality within the space to perfection – even a creaky floor board has its place in Smiler's story.
Getting to know the characters is part of the joy of this production, and Fry's intensity and concentration is unwavering, keeping you right there with the two boys throughout the duration, never once losing the audience's attention. Written in prose, and poetically delivered you might think nearly 50 minutes would start to drain – but the execution of the lyric-like dialogue is so exact and honest, that the audience can only relish in the delicious rhymes that inevitably end each phrase.
A show which teaches the audience, whilst asking them to ponder on some difficult questions, this show is simply stunning from beginning to end.
If you aren't booked to see this production, then you must book yourself in this instant. A lesson we all should learn, and a show that no one should miss. Please, please – buy a ticket today.
Paul Rodda
The Cut

Axe Soup Productions. Bakehouse Theatre - Main stage, Feb 28 to Mar 12
Two men sit in a room, one there to receive the Cut, the other to perform it. The receiver is desperately convinced of what he desires, but can the other do it? Should he do it? What kind of person does it make him if he does?
In Mark Ravenhill's The Cut, the audience is transported to a dangerous and manipulated society ruled by political and religious zeal. Here, displays of emotion are considered inappropriate and good citizens keep their eyes open to avoid the internal monologue of contemplation and philosophical thought. Those searching for an escape shut theirs in secret defiance, seeking out the void and praying for the Cut.
The story focuses on Paul (Tony Busch) and his personal struggle with his assignment as a Cutter. The position forces him to perform the barbaric processes on others, delivering them immence pain but ultimately freedom. He is forever changed by meeting John (Luke Schubert), who has dreamt of having the Cut since childhood and longs for the enlightened existence he believes it will bring.
This is a wonderfully intriguing play in the style of sci-fi masters George Orwell and Philip K. Dick. It conjures a scary alternate reality where propaganda is king and lives are played out in a superficial bubble, disconnected from free thought, intense emotion or meaningful relationships.
The cast puts in a bevy of excellent performances, in particular Busch and Schubert. Together, they open the piece and embody the confusion, anger and frustration of their characters. Busch impressively maintains Paul's highly emotional state throughout, showing the breadth of his acting as he moves through indignation, anger, frustration, resignation and hopelessness. Given how mentally exhausted you emerge as an audience member, one can but applaud the stamina and skill of the cast.
With a minimalist set and heavy one-on-one dialogue, it is a powerful show but can feel strung out and difficult at times, largely due to a script jam-packed with half-finished sentences, confused interactions and violent outbursts. The background of this troubled world and it's strangled inhabitants is so lightly touched on it frustrates, leaving you feeling that the full potential of the story is never reached. This combined with the fact that the characters are so intensely conflicted and purposefully disassociative serves to slow the process of connecting with the play's themes.
The Cut is well-directed and performed by cast and crew, but the play itselfl feels like something akin to turning on a movie one-third of the way through and spending the rest of the night trying to piece together the bits you missed. Diehard fans of science fiction might see a modern reinterpretation of a well-worn theme, but there is wisdom and enjoyment to be gleamed from this show.
Nicole Russo
I, Elizabeth
Guy Masterson's Centre for International Theatre (CIT). Higher Ground – Feb 18 to Mar 13
This show is a tour de force: a richly layered story about Elizabeth I, Queen of England, played out by Rebecca Vaughan —a consummate actor— over seventy enthralling minutes.
The life of Elizabeth has been told many times – it is an intriguing story of political intrigue, romance, statesmanship, religious bigotry, sexual politics, betrayal, insecurity and above all unflinching duty. Written by Vaughan herself, with text lifted straight out of Elizabeth's own writings and from accounts of her conversations, I, Elizabeth seemingly transports Elizabeth into a present day audience hall where she bares her soul to us and in particular explains why she has never married.
Vaughan's performance is unwaveringly sincere and emotionally charged — she feels every word, she laughs, she cries, she commands your attention and permits you to share her joys and her disappointments. At times you hold your breath – you daren't breathe — she is Elizabeth.
Guy Masterson—CIT's principal—directed the show and clearly demonstrates his skill and flair for language. His other shows are also first rate, but I, Elizabeth is something special.
Kym Clayton
The Six Sided Man
Guy Masterson's Centre for International Theatre (CIT). Higher Ground – Feb 18 to Mar 13
Let's get one thing clear—if you haven't been to a CIT show in the Fringe then you have really missed out. This is a class outfit which is presenting no fewer than ten shows of exceptional quality. Pick one, any one, but make sure you go!
The Six Sided man is a complex black comedy about a psychiatrist (Nicholas Collett) who encourages his patient (Gavin Robertson, who also adapted the script from a novel) to ascribe 'dares' to each side of a six sided die and then roll it to make major decisions associated with the treatment he metes out. His golden rules are never identify dares that you are not prepared to follow, and never disobey the outcome of the roll of die.
The action of the play explores a counselling session where the power oscillates between doctor and patient. Who is manipulating who? Does the psychiatrist know that he is also bending to the will of the patient, does he even care? Or is this his fate and ordained by a higher power? The play explores the apparent madness that is psychiatry and it does so with humour, impressive physical performances, a minimalist but totally appropriate set–as black as the subject material–and an evocative sound scape that includes a bit of ABBA for good measure.
This is riveting theatre–it doesn't come much better.
Kym Clayton
Skip Miller's hit songs.
Brink Productions. The Odeon Theatre - Feb 16 to Mar 5
This new production for Brink is a three-year collaboration of writer Sean Riley and director Chris Drummond which explores the life of an Australian photojournalist returning home after a career spent on the African continent.
The Odeon Theatre is the perfect venue for this production. A simple set consisting only of a sandy floor and textured back wall fills the space. The wall is used for the projection of moving video images and still photography. Projection features quite heavily in this production. It is used to great effect, acting like another player in the show rather than just highlighting scene changes and locations.
This production is well worth a look but be sure to bring your concentration goggles. Local African immigrants have been cast in the roles of the natives, their authenticity speaks volumes, however their accents can often be difficult to understand.
The production follows a fictional character by the name of Skip Miller. Skip is a celebrated photojournalist who has spent years documenting the war zones off Africa and the faces off the dispossessed. A somewhat transient being, he finds it difficult to fit in both at home and abroad and struggles emotionally both as a loner and in his relationship with girlfriend Allison Caldicott.
The show jumps back and forth in time between Australia and Africa, sometimes showing scenes from the past, sometimes playing action from the present. It deals with the issues of relationships, poverty, love and sacrifice all against a backdrop of provocative African portraiture.
Chris Pittman in the lead role of Skip Miller is a joy to watch, his internal struggles are clear from curtain up. Assina Ntawumenya plays Skip's principal photography interest Patience Lugor. Ntawumenya is beautifully natural, though occasionally difficult to understand. Her character has clearly experienced the suffering this tale suggests. Rory Walker is Skip's brother Neville Miller. Walker has a beautiful naivety and exposes his insecurities with such honesty. Lizzy Falkland plays Skip's partner Allison Caldicott with strength and conviction. Her characterization as the journalist is the perfect balance to Skip's transience. The rest of the cast includes Adolphus Waylee and Mondli Makhoba, both who give solid characterisations.
Technically this production was stunning to watch. Designer, Wendy Todd and lighting designer Geoff Cobham have created the perfect world for this script. Scored by a live band the music heightens emotion and underpins the tension.
A show which should not be missed, Skip Miller's hit songs, is an emotional journey without a happy ending. You might not leave the theater dancing a jig but you will be touched and moved.
Paul Rodda
The Freak and the Showgirl
Flash in the Can. The Garden of Unearthly Delights - The Spiegeltent – 1 to 13 Mar
There is a certain level of expectation for a production that takes place in the Spiegeltent. It's not a cheap venue to hire, so one would imagine that only the most professional and high quality act could afford such a place to stage their show.
9 out of 10 times, you'd be right. Thankfully – this show is one of the 9.
The Freak and the Showgirl stars world renowned burlesque performer Julie Atlas Muz and self-proclaimed freak Mat Fraser.
This is a singing, dancing, beer sculling and stripping extravaganza which is reminiscent of what you might have got in the 1902's. Fraser has Phocomelia, from the Greek translation for "seal" because his arms resemble that of a seal's flippers. Proud of the heritage of his profession, Fraser makes no qualms about his role in the sideshow industry, even giving the audience a brief history, and an enacted flash back of the life of a Freak and a Showgirl in the early days. Never afraid of the microphone he has a wonderfully talented singing voice, and his sung interludes are very enjoyable.
Julie Atlas Muz, is a burlesque dancer, with a list of awards as long as her arm (not Mat's), including Miss Exotic World and Miss Coney Island (Coney Island remaining the only permanently operating side show left in the world)
The duo deliver a barrage of song and performance, including striptease, which is classy and tasteful and in true burlesque style (at least… for the first half). Without giving too much away I can only recommend you go and see it for yourself.
Audience participation is encouraged, and the opening night audience revealed their own voyeuristic side, showing us more than just their beer sculling techniques, in a slippery orgy of madness tuned to the patriotic sounds of some Australiana music
This pair takes burlesque to the next level, and I challenge you to try not to laugh-out-loud. Seriously entertaining, adult good fun! It might even be described as "below the belt" – but they're rarely wearing one!
Paul Rodda
Steve Hall – Live
Holden Street Theatres & Avalon Promotions Ltd Presents. Adelaide Town Hall - Banqueting Room, Feb 28 – Mar 13
UK funny man Steve Hall keeps you chuckling in "Live", a comic take on family and romantic love. He delves into the challenging, but ultimately rewarding relationships he has with his eccentric father and hilariously straight-up Australian wife.
A Fringe regular since 2007, Hall serves up uncomplicated and entertaining wit that's very approachable. His geeky statue with its thin slice of social awkwardness is a perfect match to his material and style. Having said this, a great comedy set is slightly let down by a delivery that just seems to lack something.

One gets the feeling that Hall's stand-up belongs in a lively pub or bar, somewhere you can sit with friends, drink in hand, and enjoy the humor amidst the atmosphere. As just one man on a theatre stage, scrutinized by your full attention, you become aware of thoughts like "that last gag was very funny, why aren't I laughing that hard?"

Don't be put off though; this is a small criticism and there is plenty of fun to be had. The show gets straight into the funny stuff and Hall bounces well off audience interaction. Like an old-school comedian there is no glamour or theatrics hamming up the performance, Hall allows the jokes to speak for themselves. You warm to him quickly and find yourself laughing along in mutual understanding and empathy.

A great show worth heading out for, despite the sedate environs of the Adelaide Town Hall.

Nicole Russo
You're Not Like The Other Girls Chrissy
Caroline Horton and Holden Street Theatres. Holden Street Theatres - The Arch, Feb 16 to Mar 6
As creative souls the world over will tell you, the inspiration for writing and producing a theatrical performance comes from many difference places. However there is something magical about a piece that comes straight from the heart; this is one of those shows.
In a touching and funny play based on the writer's own family history, You're Not Like The Other Girls Chrissy relates the love story of a young French woman torn from her British fiance in wartime Paris. We meet Christiane as she stands upon a Gard du Nord platform to board the train that will reunite her with her husband-to-be. Happy and full of anticipation, she chats to the audience as she waits, regaling an extraordinary tale of love and separation during the tumultuous years of World War 2.
Christiane's warmth, strength and determination are beautifully portrayed in this solo performance by writer and actor Caroline Horton. Horton is wonderful onstage, showing an affection and tenderness for the character that clearly translates to the audience. She keeps you invested in the piece until its last word.
Excellent costuming and lighting combined with an innovative set to complete the piece. Horton is surrounded onstage by a number of suitcases that open out into gorgeous dioramas and play sounds that tie into poignant moments and locations in the play, such as a bed of roses for an English summer day, or a pop-up Paris skyline as the couple tour the city together. At the close of the show, she uses projection to display photos of the real Christiane and a happy conclusion to the lovers' tale.
A deserving recipient of accolades both here and overseas, including 2010's The Stage Awards for Best Solo Performer at the Edinburgh Festival Fringe, this lovely piece is a highlight of this year's festival.
Nicole Russo
Clown Lights Stage.
Adelaide Fringe 2011. Written and Performed by Alice Cooper. Holden Street Theatres. February 26 - March 6, 2011.
The first thing that pops into your mind when you think of clowns is probably not, "Gee, clowns are really smart."
In Clown Lights Stage, the story is that Alice Cooper has had an unfortunate accident on the way to give a lecture, so Penelope is giving it in her place.
The prepared lecture is sophisticated and intellectual. Words such as "intertextualization" are not uncommon. And that's where the smarts come into play. An astute audience will notice that Cooper does know the stuff that's up on the PowerPoint slides.
Penelope, however, interprets the bullet-points using everyday objects in uncommon ways — you'll see teabags and tampons used in unimaginable and quite distasteful ways, you'll see the human body used in a way that, depending on your sexual preference, is either highly erotic or gag-inducing, and you'll see bank statements used as poetry in a way that is jawbreakingly hilarious.
Like The Simpsons, the humor is multilayered. Children will love it, older children may need some parental guidance, and adults will laugh at the things the kids miss.
And on the way home, you'll go, "Gee, clowns are really smart."
Daniel G Taylor
Jimmy McGhie — The All-Powerful Warrior Who With His Endurance and Inflexible Will to Win Goes From Conquest to Conquest Leaving Fire in His Wake.
Adelaide Fringe 2011. Written and Performed by Jimmy McGhie. Adelaide Town Hall. February 18 - March 13, 2011.
A Pom walks onto a stage…
Actually, what happens is an audience walks into a room and takes their seats in front of a stand-up stereotype — a single microphone on a stand on a stage.
The reason for mentioning the audience is that we were a demanding crowd, quickly diverting McGhie from his prepared material. First, with a request for fans in the overheated room.
"Does anyone want anything else?" A woman in the second row asks for a drink. McGhie fetches his unopened bottle of water from the back of the stage. She asks, "Have you licked it?" He slobbers on the outside of the bottle and hands it to her.
When his prepared material — around threats to his masculinity, from girlfriend-stealing Aussies and Ewok-sized UK child muggers — got pushed aside, he took up a jazz-style improvisation.
"Comedy is all about whingeing, and whingeing is what Poms do well." The difference between McGhie and other Pommies is he makes you laugh as he complains. Just try to keep the snot in your nose.
Daniel G Taylor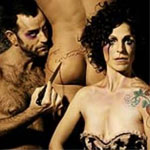 Cantina
Strut and Fret. The Famous Spiegeltent, 15 Feb to 13 Mar
Cantina is a darkly funny, vintage-inspired circus cabaret show that has gathered significant interest in the lead-up to this years Fringe.
Hyped as The Garden's "must see" show for 2011, it follows a recent trend of popularity for modern vaudevillian circus-cabaret shows led by La Clique and Smoke & Mirrors. Polished, professional and incredibly entertaining, these offer a programme that goes above and beyond the standard set of circus acrobatics and trickery.
Managing to fuse coy, sexy, intense and comedic, Cantina delivers on expectations, earning its stripes amongst this class. Taking its inspiration from violence and passion of 1950's Paris, the cast performs solo and in company to enact the theme through dance, movement, music, acrobatics and contortion.
The show opens with an elevated meeting between lovers, with Chelsea McGuffin (La Clique, Circa) showing that women really can do it better as she walks the tightrope in heels.
Finland's Henna Kaikula (Cirkus Cirkor) performs a 'rag doll' act that will shock and delight. Her sickening displays of disjointedness had the audience gasping and cringing in disbelief, and its conclusion was met with much relieved laughter.
Mozes (La Clique, Acrobat) captivates the hushed audience with a dark and dangerous aerial swinging performance that is visually powerful.
In the occasional weak point, the drama of the show is overplayed but this is a small criticism in an otherwise well-directed piece. It is technically and physically challenging, with beautiful choreography and costuming. The show is backed by a fittingly manic soundtrack of pianola, and music from Nara Demasson(Vulgargrad), who performs ukele, guitar and vocals.
The cast is talented and experienced; no one artist is just an acrobat, just a strongman, or just a dancer. Perhaps the only exception to this is contortionist Kaikula, who appears noticeably one-dimensional within the group. However, she is so exceptionally good at what she does that all is forgiven.
Cantina is a must-see, though comes with a warning for the easily offended - it does contain a moment of full frontal male nudity.
For those not put off by this, note that the show contains a lot of floor work, particularly in the first half, so if you want a clear view of the stage without having to crane your neck or rise from your seat, it's highly recommended that you arrive early to get a front row position. Now sit back and enjoy!
Nicole Russo
Simon Pampena in The Probability Drive – The Maths Behind the Lucky Country
The Science Exchange Auditorium – 24 to 26 Feb
This show was a pleasant diversion — a sort of entr'acte between other Fringe events you're going to, a stocking filler if you get my drift!

Simon Pampena may or may not be a mathematician, but Prime Minister Julia Gillard has appointed him as a 'numeracy ambassador' and has charged him with the responsibility of revving up interest in young minds about what is often perceived to be a dull pursuit.
Simon Pampena combines mathematics with stand up comedy and the result is pure joy that has found its way from school halls to the Melbourne Comedy Festival and the Adelaide Fringe.

The plot of Pampena's show is that Aussies (Oi! Oi! Oi!) love to be lucky, love to gamble, love barracking for the underdog, and love to do it all in the pub! With this as the spine to his show—which is more substantial than many other stand up routines!— he blinds us with questionable statistics and logic and 'proves' to us why Australia (Oi! Oi! Oi!) is the most successful Olympic nation in the world apart from Jamaica, which has the fastest runners because the population is desperately running to escape being murdered! (Perfectly logical—well, it was at the time) He demonstrates a logical schema that will prevent St KIlda Football Club players from ever finding themselves in compromising situations ever again, and he nabs a poor unsuspecting soul from the audience and teaches them how to memorise the number 'pi' to umpteen decimal places. 'Pi' was perhaps the least successful of his routines but his own recital of the first one hundred decimal places at break neck speed was reminiscent of the antics of the great Tom Leherer. There was other stuff as well, and the whole event was entirely silly, but oh so much fun and a wonderful way to spend an hour.
Kim Clayton

What Women Dont Want to Hear.
Arts Theatre - Feb 24 to Mar 6
Once again the Arts Theater stage comes to life for an international comedian.
Audiences usually unfamiliar to the venue pack in to see popular comedian Eddie Ifft deliver 60 minutes of 'What Women Don't Want to Hear' - or do they!
Eddie discusses the unpopular subjects of monogamy, marriage, sex and (more recently) mother nature as he doesn't hold back about the Chilean mining disaster, the Queensland floods and the Christchurch earthquake.
Mostly sticking to his scripted routine Ifft only occasionally diverts to deal with a menace-some heckler.
The audience goes wild as Ifft touches on every subject including masturbation, pornography, anal sex, and midgets. The American-born comedian repeatedly expresses his love for Adelaide, all the time discretely taking the piss, but it doesn't matter, the crowd loves him and lap up every word.
With only 10 shows make sure you book fast, and arrived early, for Eddie's legion of fans will pack the arts theater foyer in anticipation of his show leaving shuffle room only!
Paul Rodda
Lady Sings It Better
Blackcat Productions. The Promethian - 1 to 9 Mar
I haven't been in the Promethean since its makeover as a nightclub and it is fantastic. Great cabaret set-up with a green luminescent bar extending from the foyer to the back seats. And on stage, in front of a sell-out crowd, was Lady Sings It Better. Conceived by erstwhile Bathurst-based uni students Phoebe Meredith and Maeve Marsden, Lady Sings It Better is a revolving door for new female vocal talent. The idea is to give songs by pop male songwriters of the last few decades new arrangements with that feminine touch. This works in spades. The gals give the lyrics clear diction, thus showing off some top pop poetry, and the songs are jazzed up in truly novel deliveries for single or chorus renditions. There's even a couple a cappella. The ladies are backed up by piano, drums and bass in the guise of bass guitar or double bass. Composer Tim Hansen is the musical director but he takes no credit for the arrangements on his website.
I Can't Get No Satisfaction given early in the concert was broken down into its parts and later the Oil's Beds Are Burning was literally spine tingling as the crew found the song's awesomely honest plea. The advertising postcard promises sexual references, coarse language and some bad dancing, but actually all were provided aplenty. The ladies aren't shy about their sexuality – some are straight and some are carpet munchers. Some are also wildly unfit and ran out of puff on the more energetic bad dancing numbers and appeared trapped in uneasily moved bodies. That didn't look very professional. Anna Martin, who opened the show playing the piano as well, has what it takes – poise, voice, the necessary moves and a bit of panache. Fiona Pearson provided many comedic reflections and is in fact a stand-up in a parallel universe. Generally though, the banter and horsing around seemed a bit forced. The ladies sang well together most of the time but occasionally it was less than successful.
I loved the choice of songs from amongst the catalogue of AC/DC, Leonard Cohen and Bon Jovi as well as the aforementioned, and I loved all of the new arrangements. I just think that the majority of the ladies didn't show they have what it takes for this act to reach its full potential.
David Grybowski
WAGS
Matt Byrne Media. Maxims Wine Bar. Feb 16 to Mar 13.
Matt Byrne has once again packed his audience into Maxims Wine bar – Aircon... someone... anyone?
Another spoof in what is becoming a Byrne tradition, WAGS is an attempt at a comedic play on words built around the story of four wives and girlfriends (as the acronym implies) of Aussie Rules footballers attending the Brownlow medal. The show opened to the tune of "It's Raining Men" which had been rewritten as "Out-Rate the Men" and refers to these WAGS being a bigger publicity draw card than the 'Brownlow' medal itself.
In true Byrne style, nothing in this spoof misses out on the send up. Best described as a live performance of televisions Fast Forward and the Comedy Company rolled together, it consists of bawdy caricatures, short scenes and the pre assumption that the audience will recognize the characters. If you don't follow football, or know who the characters are based on, quite a few jokes will go over your head.
The cast, consisting of Paula Cooney, Eloise Scherer, Tegan Gully and Ali Crew play multiple characters, from reporters, to the boyfriends, freeloaders and the girlfriends. The direction; make it big, whether it works or not, is the girls biggest success. It is clear that Byrne's direction was for the actresses to play it large and loud. Individually they are very strong, all giving solid performances with no weak link. As an ensemble they are competing for the funniest one-liner, and there are plenty of one-liners to spare. Poetry features heavily in the story telling. Four line prose sets up each story, which end with a predictable joke or pun. Smatterings of laughter filled the room, however it was clear that this show didn't appeal to everyone.
This production has a niche market and is well performed, but don't go looking for something tasteful, the taste is a little below the belt.
Paul Rodda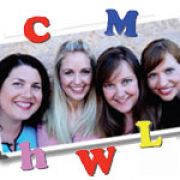 Mother, Wife, and the Complicated Life.
Star Theatres. Amity Dry - 18, 25 and 26th Feb
There is a beautiful truth about this production. It is a raw look at relationships, parenthood, love and family and the audience hangs on every word. It's funny, poignant, sad and endearing and the emotions change smoothly from one to the next.
Real life is often funny; comedians pray on the obscure truths in everyday things to reveal the humor. Writer Amity Dry has succeeded in creating these characters with a truth that transcends the comedy. Each of the women is outstanding. Surprisingly they are often individually better than when in ensemble, until some very popular numbers in the second act including "Come to Bed".
The show took a little while to warm up, and some potentially moving songs came a little too early, before a real relationship between the audience and the characters had been established. There were a few nerves evident in the opening scenes but this quickly wore off.
Rachel McCall is Jessie. Recently engaged she has the world at her feet, nothing is too hard and she sees everything through rose coloured glasses - including her newly purchased 1959 railway track side fixer upper home. 
Amity Dry plays Kate, an expectant mother who never imagined herself having a baby. Kate falls pregnant at a time in her life when career and travel featured strongly in her plan. Her journey includes her struggle with a fear of failure as a parent, through to the birth and the discovery of a mother's love for her new born child.
Nikki Aitken is Bec. Mother of three, Bec has a dry wit and provides most of the comedy by recounting the painful side of raising a family. Aitken plays Bec with love and compassion but is never short of a quip or remark to remind everyone it's just not like in the movies.
Susan Ferguson rounds out the cast of four, playing Lily. The quiet one in the group, Lily is always there for her friends, supportive and caring. Ferguson beautifully laments when she reveals that her relationship is not what it used to be, her fears that the love has gone and it's all about to end.
The four women all have lovely voices and sang beautifully. Interestingly their voices are all quite similar, and it might have been nice to hear some more contrast here. What is really evident in this production is the support these four characters have for each other. Dry states in her writer's notes that she wanted to demonstrate this bond between girlfriends and this has been successfully executed.
Some microphone issues on opening night were annoying but not too distracting. The band levels under musical direction of Mark Simeon Ferguson were always perfect and the sound balance was well executed by Martin Gilbert. The show utilizes a simple and functional set designed by director David Lampard, though it is annoying to see it moved by the players in full light. A stage hand would have been neater and maintained better continuity for the characters.
As a male audience member, I had many connections with this show. One suspects that the women had even more, potentially reconsidering rushing into a family of their own!
Overall this is a lovely production. If houses are anything like opening night you had better book now or there won't be a seat left. This endearing production is definitely worth a look.
Paul Rodda
The Importance of Being Earnest
The Adelaide University Fringe Club. Flinders Street Baptist Church – 25 to 27 Feb
A well loved piece by Oscar Wilde regularly performed by amateur and professional theatre companies alike, The Importance of Being Earnest tells the story of friends Algernon and Jack. Jack is and orphan of unknown parentage who has invented a brother named Earnest so that he might regularly visit the city from his country home to court the love of Gwendolen. His ward, Cecily, is renowned of much beauty and when Algernon learns of this, he decides to impersonate Jack's fictitious brother whom he knows Cecily has never met, so that he might see of her beauty for himself. After much confusion both Gwendolen and Cecily learn off Jack and Algernon's deceit and of the non-existence of the man they both presume to love.
The Adelaide University fringe club has decided to tackle this famous work as part of the 2011 Adelaide Fringe season. Director James Moffatt writes in his production notes that he has staged a new interpretation of the work in which he has tried to update the characters to be more familiar to modern audiences while remaining as true as possible to the Victorian setting. In the first act, however, this update appears non-existent. It is not until the second act that one begins to notice the 'updates' which can only be described as a self-indulgent. Moffatt's direction appears more interested in sending up the characters and overstating the plot points than in the true subtleties which the script implies.
In the lead role of Jack Worthing, Omkar Nagesh works very hard, often however too hard - appearing stranded alone on stage with little to bounce off of. Joshua Kapitza plays Algernon as an incredibly boisterous and disrespectful suitor. His characterization seems often self-indulgent and neglects the ensemble, upstaging fellow actors in the pursuit of the audience's attention. Amy Campbell plays Lady Bracknell, a character well beyond her own years. Using makeup and voice Campbell attempts to appear older, however they characterisation is shrill and awkward and incredibly difficult to watch. Vanessa Redmond as Gwendolen gives a wonderfully measured performance, as one of the standouts in the cast, her Gwendolen is a pleasure to watch. Sophia Bubner steals the show with her interpretation of Cecily. Energetic, natural, and honest, her characterisation is spot on. In the smaller rolls of Miss Prism and Dr. Chasuble, Ali Walsh and Matthew Harnett are also too young. Makeup techniques designed for large stages with big auditoriums have been employed in an attempt to age these actors, but in this intimate venue with very flat lighting the actors merely looked dirty. Jeff Doors has the walk-on roles of Merryman and Lane, servants to both the Worthing's and the Moncrief's and does a nice job.
The venue, however, takes the cake as the least enjoyable part of the evening. Fan cooled with no insulation, poor access to facilities and no bar, dehydration quickly set in, with many members of the audience heading for the nearest pub as soon as interval came to buy a bottle of water.
At just over 2 hours and 20 minutes this production was hard work for the audience, disappointing when one wants to just sit back and enjoy.
Paul Rodda
Tom Tom Crew
Strut and Fret. Umbrella Revolution - 16 Feb to 13 Mar
Upon walking into Umbrella Revolution to see powerhouse hip-hop outfit Tom Tom Crew, you are put in the right frame of mind immediately. The theatre is buzzing with energy and attitude, creating a sense of anticipation that is palpable. It has you well prepared for a variety show of an entirely different kind when the Crew hit the stage.
For most, it will be a completely new experience. One hour crammed with big acrobatics, DJ battles and some of the most insane beat boxing you're ever likely see performed live. Regardless of whether you're an avid fan or wholly unfamiliar with hip-hop culture, it's chocolate for your eyes and your eardrums.

Ben Walsh is charismatic and fun, nailing his role as MC. His break-neck drumming sets seem slightly out of place but are high-energy and impressive. DJ Luke Dubs gets the crowd bouncing with live mixes, while the aerial stunts of the acrobatic team elicit foot stamping from the audience.

Stealing the show is street artist and beat box extraordinaire Tom Thum. The pitch perfect, multilayered sounds he can produce with just his mouth and a mic boggle the mind. It has to be seen to be believed, and we highly recommend that you do. The show does feel a little unbalanced, with the energy dropping a notch too far at some points. More of the acrobatic interludes that had so much impact at the show's beginning would sustain the vibe and keep the crowd pumped for longer, though this is just "finishing touches" stuff.

It's a supremely entertaining show, akin to The Dhol Foundation on speed. You'll struggle to wipe the smile off your face on exit.
Nicole Russo
Spaceship Man
Sound and Fury. AC Arts Main Theatre, 19 Feb to 12 Mar
Sound and Fury are an outstandingly funny comedy trio that bill themselves as proponents of nouveau-vaudeville. They have been wowing Adelaide Fringe audiences for a number of years – this is their fifth festival - with wonderfully inventive shows like Testaclese and Ye Sack of Rome, Private Dick, and Sherlock Holmes and the Saline Solution. They won the People's Choice Award in the 2008 Fringe.
To say that theirs is clever comedy is an understatement. They use and abuse ideas from subjects as diverse as physics, mathematics, politics, and literature, and mix it all with a dash of always-funny and never offensive smutty talk and mad cap antics. They are masters of improvisation – you are never really sure whether what they have just said is scripted or completely improvised, and they thrive on feedback from their audience!
Like good farce, the story line of their scripts is absurd, but they tell it with such mischievous sincerity that you don't care. Apparently their current show – Spaceship Man – is about Major Cyrus 'Cy' Fie who comes out of retirement to travel to Mars to stop a rogue officer who's taken the law into his own hands, but I didn't really notice – I was too busy laughing at the avalanche of funny one liners and double entendres from three of the funniest guys around. You have to go and see this one!
Kym Clayton
Low Level Panic

Arcade Lane – Regent Two, Feb 20 – Mar 11
Written by playwright Clare McIntyre in the mid-1980's, Low Level Panic focuses on the ruminations of three young female roommates, exploring their body image, sexual experiences and attitudes towards pornography and the portrayal of female sexuality.
Jo (Maryann Boettcher) is obsessed with her appearance and struggling with confusing sexual fantasies. Mary (Kate Englefield) is a victim of sexual assault who is appalled by what she sees as the tendency of all men to objective women. Celia (Alicia Case) is a self-absorbed clean freak who struggles with the shared living arrangements.
In his program notes, producer Aaron MacDonald expresses a long-held desire to direct this show, an interesting admission given the subject matter. He pre-empts the obvious question of whether a man could genuinely connect with a script written for and about women, by a woman. This does not appear to have carried through to the final production, but if it had a greater issue would likely mask it. The conscious "toning-down" of the script's more aggressive feminist themes is noticeable. While understandable given the chasm between women of the 80's and today, it left the production lacking something, with characters that felt distant and not easy to connect to with.
The exception to this is Englefield's solo work, where she owns her role and executes with very believable emotional conviction.
This piece is heavy going; it is dominated by repetitive dialogue and the echoey venue sometimes made it difficult to hear and understand what was being said. It was well executed however, with a clever set and a talented cast who performed brilliantly and with great professionalism in spite of a modest audience.
Nicole Russo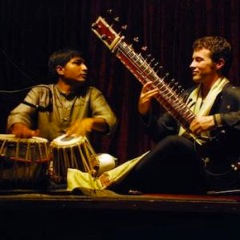 Sadhana
Church of the Trinity, Feb 20
Josh Bennett (Sitar, Dilruba) and Jay Dabgar (Tabla) joined forces to present their latest collaboration Sadhana in a one-show-only appearance for the 2011 Adelaide Fringe.
A long-time devotee of the Indian Sitar, Bennett has trained and performed in Adelaide and India, playing for Ravi Shankar in his Delhi home. Dabgar is a Tabla virtuoso and was awarded numerous Indian accolades before his move to Adelaide. Together, these two masters of their form are a pleasure to behold.
They have performed in combination many times both here and overseas, including the 2010 Adelaide Cabaret Festival and the Saptak Classical Music Festival in Ahmedabad, India. Their skill and passion have earned them a solid reputation and fan base in Australia, as demonstrated by the well-sized audience gathered in the tranquil setting of the Church of the Trinity.
It was a perfect choice of venue; this beautiful church nurtured the meditative nature of the show as Bennett and Dabgar presented an arrangement of Indian classical ragas. This music is genuinely enchanting; the soulful sitar strains lead you into a blissful state of calm and contemplation before the rhythmic Tabla beats awaken the mind and draw you back to reality.
In addition to the chance to enjoy a musical style generally reserved for the likes of Womadelaide, these performers impart much insight into their instruments and the sounds they produce. This allows the audience to enjoy the proceedings with a context and understanding for its purpose and meaning, greatly deepening the experience.
Bennett and Dabgar were accompanied during the second half of their concert by Indian classical dancer Parvyn Singh, daughter of renowned world-music artist Dya Singh and respected vocalist and performer in her own right. She presented several original compositions in the North Indian style of Kathak. Donning traditional dress and belled ankle bracelets, her captivating display of percussive footwork, twirling skirts and subtle, fluid movement had the audience mesmerised.
It is rare that you will get the chance to see three more humble or talented musicians in one night, and it was an experience to be treasured.
While Sadhana had just one showing, you can catch Bennett and Singh performing with Andrew Clermont in Blu Grass – Ragas To Riches (Mar 2-6). Don't miss it!
Nicole Russo
Skin House
Quiet Little Fox. The Tuxedo Cat – Blue Room, Feb 18 – 26
Staged in the somewhat derelict surrounds of The Tuxedo Cat, Skin House enjoyed a well-attended performance in the first-floor Blue Room.
Co-written and performed by the duo of Fleur Kilpatrick (director), and Kristina Benton (composer), Skin House delves into the reality of living and working in Melbourne's sex industry. Benton's story is the crux of this piece; through dialog and musical composition the pair present a window into fifteen years spent in the industry as a worker and a madam.
This play exposes an intriguing and sordid subject matter with sensitivity, honesty and humor. Benton's presence infuses the performance with authenticity and is crucial to its overall appeal. Kilpatrick showcases her diversity, singing beautifully and dramatising unselfconsciously. Many of the show's highlights come in the form of vocal duets between the two; the score is small but lovely and adds much to the piece.
While occasionally self-indulgent and cathartic, Skin House is well written and executed. Both Kilpatrick and Benton do well to ignore an unfortunately high level of raucous noise invading from the show down the hall, commendably never losing intensity or focus. Well worth checking out.
Nicole Russo
Rocket Boy
Attention Seeker Productions. Bakehouse Studio Theatre
This debut play by Macquarie University student Kendall Feaver is damn good fun and worth catching. It is essentially a tale about two ten year olds, Jessica and Lieutenant (!) who become accidental friends in the midst of the disintegration of their families. On the surface Jessica needs the relationship more than Lieutenant, who is a decidedly 'odd' lad. He thinks he's an astronaut about to set off for the Jovian moon Europa! She looks beyond this quirky trait and the action of the play explores her cultivating him to become her boyfriend. She is aided and abetted by her girlfriend Ivy, who is well versed in the affairs of the heart from her extensive reading of Dolly magazines. However, the family disintegrations become complete and the play concludes with Jessica and Lieutenant also needing to separate.
The play is very funny but very touching at the same time. The childish antics of Jessica and Lieutenant are linked by a Narrator, who is splendidly played by the always-sitting Andrew Jackson. Curiously he is reminiscent of the Criminologist in The Rocky Horror Picture Show and the dialogue that Fever gives him is just delicious – a mix of erudition and thoughtful idiocy! Lauren Farquhar plays Ivy and gives her a sustained fresh-faced know-nothing look and feel that is just right! Julian Webster plays the maladjusted Lieutenant in a style that resembles him having Asperger's syndrome. It works a treat, and I wonder whether the play might take on a different dimension if this were explored in a revision, not that it needs that I hasten to add. Just a thought! Kaitlyn Mahoney plays Jessica beautifully and gives her youthful sincerity in the first flush of romance. Good stuff!
This is a cool piece of theatre. It is definitely worth a visit to the Bakehouse to see a credible production of the first play of an emerging playwright. I hope we hear more of Kendall Feaver in the future.
Kym Clayton
Steve Sheehan's – A Little Horseplay
Steve Sheehan. Tuxedo Cat - 18 Feb to 6 Mar
I went to this show only because Steve Sheehan's Stevl Shefan and His Translator Fatima won the Critic's Circle Award for most innovative work last year. Well, he's innovating again but there will be no awards. As advertised in a perhaps too implicit way, this is a work-in-progress, a trial run of some new ideas. It's great if you want to see a comedian developing a show. It might have legs, even. In fact, it's got eight legs. There is Steve being Steve, an opera singer who would work better dressed as Brunhilda, and a teenage horse of the miniature variety. The horse's first entrance is a great surprise but after that you realise it's just looking for oats scattered around the place and isn't really engaged in the show. There is an entertaining sing-along to a Wagner opera number, but then too much rambling about numbers altogether. Steve plays a couple of organs well, even with a horse head on. That was a bit scary, like in Equus. When he took the horse head off, he had on a curly-haired wig, and I didn't know if he reminded me of Harpo Marx or Percy Grainger. A very low watt show – maybe it's not turning out as Steve would have liked as he was searching for answers from the audience. Go and give him a hand but try and beat the price down first – even $10 is too much. Bring a carrot for the horse.
David Grybowski
Adolf
C.I.T. Royalty Theatre - Feb 18 to 27
What a double bill! A play about Hitler and a play about Shylock! We see ominous large red banners with swastikas (at Customs: "Honestly, I'm doing a play!") reminiscent of the Nuremberg rallies and then a bit of Wagner lilts through the cavernous auditorium of the Royalty. An avuncular Hitler doppelganger arrives from central casting and underwhelms me with his meekness. But this is a pot slow to boil. By the end, I am in awe, I find the Fuhrer fascinating - I feel I am in the presence of the man. Pip Utton, the creator and performer of Adolf, has been doing it since the Dead Sea was sick. We, the audience, are his final faithful in the Berlin bunker. The Russians have overrun the city and Hitler has one last opportunity to justify himself. He describes how he won and clung to power in a sort of update of Machiavelli's The Prince. How could anything he did be wrong if it was for the good of German people? Is his view, only the German people are people. Utton accurately replays the strong gestures and oratorical style that makes Hitler so spellbinding even in the black and white reels. The most chilling aspect of this monologue is that Hitler actually put into practice all that Utton is telling us. Otherwise, it could have passed for fiction… and that's just the first part.
Utton downs tools, takes off the brown jacket with the swaskita armband and the moustache and wig, and bums a cigarette from an audience member. He starts innocently, about cigarettes – perhaps forgetting that the Nazis in 1933 were the first government in the world to ban smoking in public places – and then things start to get nasty.
Utton conducts a long racist rant. It begins rather mildly – a few flat jokes, some off-colour remarks (no pun intended), seemingly harmless stuff. But ever so creepily, he slowly builds with more sinister remarks. I say to myself, these things might be heard in an English pub, or a kitchen in Leeds, but not around here. I honestly don't know what to make of it. Is he for real? He seems realistically awkward and not funny, yet so unselfconscious, like he really believes this stuff about Jews, blacks, homosexuals, Muslims. He even uses some of his Hitler gestures. What an idiot! He makes the usual right wing arguments about immigrants taking jobs and sending them home, about the Jews robbing the Palestinians of their land. I've heard all this before, but gosh, this is unrelenting. I'm starting to feel really uncomfortable. Are people behind me walking out? I want to walk out. I don't know if it's real or not and I want to stop this guy. It's all rubbish. Still, I know some people say this sort of stuff, I hope I don't. Then he says, see?
David Grybowski
Shylock
C.I.T. Royalty Theatre - Feb 20 to 27
You don't need ever to have seen Shakespeare's Merchant of Venice to enjoy Guy Masterson in Shylock. The actor who has performed in previous fringes in Under Milk Wood and Animal Farm is just as dynamic in this monologue, written and directed by Gareth Armstrong.
Masterson plays Tubal, friend of Shylock in the famous play. Dressed in suitable Venetian or whatever attire, Tubal entwines the history of the performance of Shylock with the even older history of Jewry in Great Britain.
It is unlikely Shakespeare even met a Jew because they were banned - interesting stuff like that. Tubal recites Shylock's famous lines in the play giving in brief the entire plot including the play's origins.
Masterson creates the atmosphere of a full production, he singlehandedly does the dialogue of both Portia and Shylock in the climatic courtroom scene. He is no longer a young man yet he performs with impressive physicality and with dancing magical gestures. Masterson's only weak spot is a loss of volume at the end of many lines, where his vocalisation turns to a hoarse breathiness.
There is so much fascinating information that the show has an intermission, but never a dull moment. Put together a few shekels for this one.
David Grybowski