Writer / Director: Gita Bezard. Writers and Performers Jeffrey Jay Fowler, Arielle Gray, Chris Isaacs, Frieda Lee, Mararo Wangai. The Last Great Hunt. Rehearsal Room 1, State Theatre Centre of Western Australia. Northbridge, WA. 31 May - 10 Jun, 2017
In The Last Great Hunt's The Advisors, a group of young people, whom if you squint could be the new Power Rangers, or perhaps an incarnation of Hi 5, throw a relentless slew of advice at the audience for 70 minutes. As a premise, this sounds questionable, but this is a really exciting and engaging piece of theatre.
In what resembles an extended piece of slam poetry, combined with interpretive dance, the audience receive advice on finance, romance, sex, household tips and life-skills - sometimes funny, occasionally useful, often contradictory and at times disturbing or unnerving - we receive hundreds of nuggets of advice. This show is a wonderful examination of what is really important and great food for thought about the value of giving or taking advice.
Beautifully crafted, The Advisors moves seamlessly and its wordiness and quick-fire delivery (not to mention complex choreography), must make it an actor's nightmare to memorise. Wonderfully slick, it has excellent pace and is highly engaging.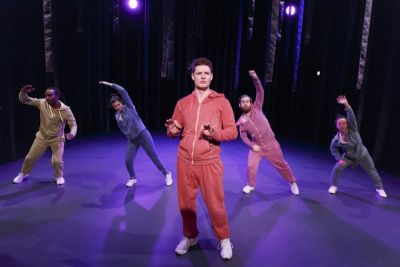 Very impressive teamwork from actor-writers Jeffrey Jay Fowler, Arielle Gray, Chris Isaacs, Frieda Lee and Mararo Wangai, under writer-director Gita Bezard.
Interesting design choices from Rozina Suliman who created the cast's matching tracksuits in contrasting colours and the beribboned sets. Strong seemingly organic support from lighting designer Karen Cook and sound designer Brett Smith.
The Advisors is performed downstairs at the State Theatre Centre of WA, in 'Rehearsal Room One', in reality a lovely little black-box theatre, a hidden gem - much like this lovely show.
An intriguing production that had its audience enthralled. My advice is that you should see The Advisors.
Kimberley Shaw