Music by Elton John, lyrics by Tim Rice, and book by Linda Woolverton, Robert Falls, and David Henry Hwang. UMMTA (Vic). Director: Grace Agnew. Musical Director: Anthony Cardamone. Choreographer: Ammalee Meisels. Union Theatre, University of Melbourne. September 19 - 27, 2014
I am very familiar with the opera Aida and aware that Elton John had written a musical on the same subject, so was interested to finally catch a production. And what a production it was!
Though we have the same characters and same basic story, it is quite a different take, starting before the opera does, so we see Aida being captured, and there are a number of sub-plots which do not appear in the opera. It worked very well, and there was a lovely twist at the end which eased the tragic ending.
Everything about this production had class. The singers were very good and their acting strong. The lighting was brilliant. The cyclorama lighting and dramatic silhouettes were very effective, and these were enhanced by the choreography.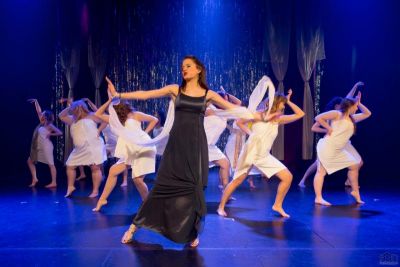 In the title role Sarah Calsina was small, vulnerable and feisty. She could do anything with her voice, from beautiful soprano to full Broadway Belt. She was right inside her role and her scenes with her lover, Radames, played by Joseph Spanti, were tender. Joseph also sang well and was a good foil to Sarah.
As the other member of the love triangle, Grace Kingsford was a regal Princess Amneris with an excellent voice. Pasquale Bartalotta impressed as Mereb. The costumes, though some of indeterminate period, were stunning.
The direction was very good and I loved the way the characters were able to stand quite still when required, which gave them great strength. The sets were minimal and the action never slowed. Early on the voices were drowned by the band, but things improved as they went along. However, it was disturbing being able to see into the wings.
But this was a terrific show which I can thoroughly recommend.
Graham Ford
Photographer: Ben Fon