By Alex Lycos. Director: Michael Block. The Factory Theatre (NSW). August 11 to 21, 2011.
200 Greeks and 200 Lebanese walk into a theatre, what happens?
Two hours of riotous laughter provoked by the outrageous squabbles and self-righteous posturing of the Karrastopoulos and El Masri families.
The divide for this modern day love struck Romeo and Juliet is their Greek and Lebanese roots and all the baggage their heritage and their families constantly drag into their lives, now more complicated by a baby! But in the end loves conquers all, including disputes about whether the Greeks or Arabs created Baklava.
This is the third instalment in writer/producer/actor Alex Lycos's Alex & Eve trilogy, which has become Sydney's most successful independent theatre production, in terms of audience and box office, over the past three years. It flows like a fast paced TV sitcom, with lots of short scenes, flippant repartee and pedagogical nationalistic and ethnic rants, reminiscent of that greatest of all small screen bigots, Alf Garnett. The verbal battles between the Greek father, played by Michael Kazonis, and the Lebanese mother, played by Helen Chebatte, are memorable. On the downside the characters are somewhat stereotyped, some scenes end a little abruptly and a few gags are repeated too often, but the laughs abound.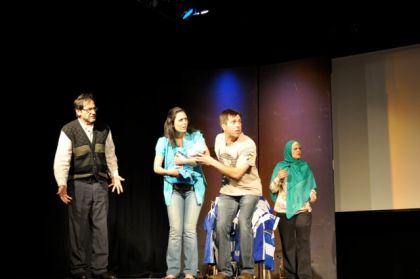 At a time when our nation is still debating who and how many immigrants to let in, this is a tale of immigrant Australia today, divided generationally, with the parents living out the petty jealousies of their villages on the fringes of the Mediterranean and their children, who they educated to succeed, finding that happiness lies in love, not eternal feuding.
Anglos may miss the apparently hilarious asides in Greek and Lebanese, but humour and pace makes this show a great night out for all Australians. Will the next instalment be Alex & Eve: The Mortgage?
Stephen Carnell
To keep up with the latest news and reviews at Stage Whispers, click here to like us on Facebook, or follow us on Twitter.