Australian Shakespeare Company. Director: Kevin Hopkins. Duneria (Vic). Mar 5.
Watching Alice in Wonderland, with an audience comprised of almost as many adults as children, in the beautiful natural Amphitheatre that is the magical heritage garden of 'Duneria' was certainly a pleasure. For the morning performance the sunlight played pleasingly on the exquisite 'botanical backdrop', lit the actors and warmed the audience. Voices were projected splendidly with the assistance of the treed environment.
Firstly the audience is introduced to the White Rabbit - who really is late. A well-dressed and feisty Roscoe Mathers plays this part convincingly with energy and commitment. The first interactive game with the 'caterpillars' of the audience, one of time telling, is engagingly and competently conducted. This bodes well for the whole as it inspires confidence in the company's capacity to manage a large audience.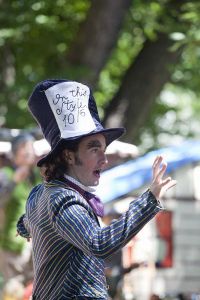 Each of the talented troupe of eight actors is 'showcased' playing a featured character, in most cases to near perfection.
Madeleine Field as Alice is befittingly cast. She looks beautiful and is vocally clear and strong.
Syd Brisbane creates an appropriately mystical Caterpillar.
The execution of the Duchess's 'speak harshly to your baby boy' scene is outstanding. Jacqueline Cook presents the rhyme with the aid of a great costume that swings wildly from side to side at the hip. She is supported throughout by the drumming of wooden spoons on plastic pots by a scintillating French cook (Michelle Hall). And, yes, the baby suddenly transforms into a piglet.
The characterisation of the Mad Hatter is perhaps the most comprehensive. Dennis Manahan displays the childish petulance of a narcissist who must have his perceptions validated as the right way of seeing. This depiction is ably endorsed by Anthony Rive as a nutty and assertive March Hare and Michelle Hall as the very sleepy, yet engaging, Door Mouse.
The set is substantial and very effective. Some of the costumes are superb. The mock turtle and the puppet of the disappearing Cheshire cat, among other images, are consummately reminiscent of the original illustrations by John Tinniel
Well devised with much to absorb the audience. There are a number of 'where is she/he' gags to commence the proceedings followed by the unravelling of the story in a fairly lengthy yet winning way and the whole is topped off with some strategic and amusing audience engagement.
Truly fun for all the family!
Suzanne Sandow
Images are of Gemma Bishop (Alice) and Jamie McDonald (Mad Hatter) who performed in the earlier Rippon Lea season.