By Lewis Carroll. Adapted by Penny Farrow. Boyd Productions. Athenaeum Theatre, Melbourne, January 10 – 12, 2019; Frankston Arts Centre, Jan 13; Capital Theatre, Bendigo, Jan 15.
The perfect holiday treat!
An excellent new production of Alice In Wonderland is currently being performed at the classic Athenaeum Theatre in Melbourne - a much loved timeless story by Lewis Carroll that is always a blast for the young and old.
Penny Farrow has adapted and directed an exquisitely animated production that ticks all the right boxes for any Alice aficionado. The madcap rhyming nonsense is cleverly meshed into this one-hour show, as zealously talented actors deliver marvelously eccentric and entertaining performances.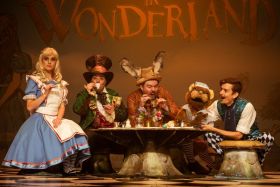 Alice (Georgina Walker) is cast perfectly as the curiously bored little girl seeking adventure; defiant and self righteous, she conducts her wild and wooly encounters with brazen abandon. She hesitantly takes the advice from the Caterpillar (Anthony Craig) as he morphs into a fluttering blue butterfly. Meanwhile White Rabbit (Liz Skitch) is nervously skitting around Alice, ever so concerned about being late – 'oh dear, oh dear'.
The baffled and nonsense driven dynamic duo Tweedle Dee (Justine Anderson) and Tweedle Dum (Sarah Whalen) are a hilarious comical double act in their rattle-battle, while the Mad Hatter's Tea Party is perfectly zany to say the least. The marvelous puppetry creations (Dieter Puppet Creation) include the Cheshire Cat (Simon Burvill–Homes) who is menacingly friendly, bathed in darkness and highlighted in fluorescent green light is really – quite - something, a gem of a performer who also doubles up as the majestic Queen of Hearts
The overall show is bright and illuminating and the costumes are gorgeously creative. This is a fabulously entertaining show.
Flora Georgiou