By Alan Ball. Fly-On-The-Wall Theatre. Director: Robert Chuter. Chapel off Chapel. May 9 – 20, 2012.
There's good news and bad news. The good news is that this is a fine production full of stunning performances from a highly skilled but little known cast that will leave you gobsmacked. The bad news is that Ball's play is too often badly structured and sacrifices truth for an ascerbic glib line. There are no individual voices in the dialogue – only Ball's; and the final melodramatic scene – an addendum to the story – is more like the cliffhanger of a TV drama series – tune in next week and see what Omar does next. It's a teaser, but we don't care, because we have invested so much in Omar and Dwight. There are flashes of Ball's brilliance – The halcyon days of American Beauty and Six Feet Under - but any truth in the characters has to be found in the performances – not the text.
Omar is a gay hustler who may or may not be Greek, Libyan, Saudi, Puerto Rican or Armenian. He's lied so much and so often it's doubtful even he knows the truth. The only truth he does know is that he's lost (emotionally) in America. Dwight is also lost in America: In the expectations of a privileged up-bringing; the inconsolable grief of his mother's suicide; the unbreakable glass wall that separates him from his father. When Dwight hires Omar for casual sex, neither one has any inkling of the relationship to come. And if they did, they would have run away from it, despite their need to belong.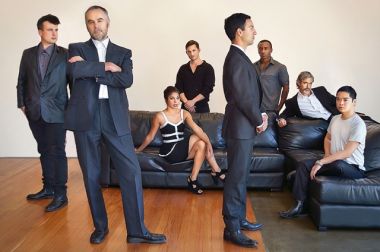 All of the dissections of this play talk about looking for connections and not finding them. I think that's only part of the theme. More correctly it's about FINDING those connections and then sabotaging them because you a) can't accept that you are worthy of being loved and b) are afraid of the pain and can't surrender to the relationship. This seems to be, for me as a writer, the journey of both Omar and Dwight. The connection is made – but they both throw it away… the tragedy of the human heart.
Christian Heath is a revelation. His Dwight is a heart-breaking, funny, deeply touching creation. Every hand movement, every expression, every glimpse of the pent up anger and pain, is real. An amazing young actor, he must surely be destined for great things and I can't imagine why I have never heard of him before. But I'm certainly a fan now. Francisco Lopez does a fine job as Omar, arguably the more difficult role. There's palpable tension in the performance, a sense of intriguing danger at times, but there were also moments when I sensed disconnection and it wasn't called for in the subtext. He seemed on several occasions to be searching for the next line, so the performance was uneven but with flashes of brilliance, an interesting actor.
The rest of the cast was flawless, but Sarah Roberts was a standout. She made her cameos of Cynthia and Beth into completely different three dimensional characters, with performances that went far beyond the limitations of the script: Another actor surely destined for a huge future. Robert Chuter's direction and staging were excellent throughout and the use of the projection screen was a master stroke of design given that Ball has loaded the script with multiple set changes far more readily achieved in a television studio.
Personally, I think it has been a mistake to largely sell this as a "Gay Play". True, there is male nudity and simulated sex, but there's a danger that the "straight audience" may feel this has nothing to excite them. That's simply not true. The themes of belonging, self doubt, fear, repressed sexuality, and an inability to surrender, are all gender free zones. This cast takes the script far beyond what is offered on the page and offers all of us, as play lovers, a night of totally satisfying theatre, and that's a rare thing.
Coral Drouyn