An orchestral guide to the universe. Queensland Symphony Orchestra (QSO)/ Concert Hall, Queensland Performing Arts Centre (QPAC). 24 November, 2018
In 2016, the QSO ran an audacious campaign declaring 'She's Ours!' – to celebrate their coup in snaffling the captivating and world-renowned Alondra de la Parra as their Conductor and Music Director. Now I can see what all the fuss was about! De la Parra's passion for music is infectious. In her role as Music Director, she starts Mahler's 3rd Symphony with a short explanation of each of the six movements. She doesn't believe in the usual classical music boundaries – urging us not to hold back. If we feel like applauding after each movement, do it – it's an experience we are having together, so enjoy ourselves.
Mahler wrote his nine symphonies in his spare time, on weekends and his summer holidays. He incorporated the sounds he heard in everyday life – folk tunes, brass bands, funeral marches (he tragically lost more than half of his 13 siblings, so was no stranger to death), music from his family's tavern, and birdsong from the nearby woods – where, in a traumatic childhood experience, he once spent a whole day. His compositions have been described as 'sonic goulash', palpable in the 3rd symphony, and encapsulated by the symphony's sub-title: 'An orchestral guide to the universe'.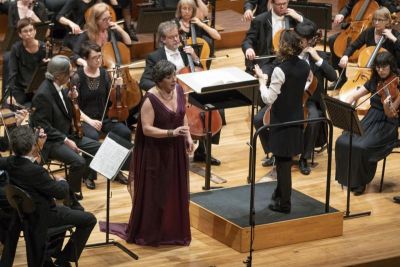 After the intriguing introduction, De la Parra exits the stage. The musicians are in place. She returns to expectant applause, this time in her second role – as Conductor. As promised, the symphony is a musical experience to savour. After the first movement – Summer Marches In – there is a pause as two choirs totalling around 80 voices take their place at the back of the orchestra. Wow – a collective gasp is heard around the hall as the audience prepare for what is to come. Mahler takes us on a journey through nature, visualising flowers, animals, and the encroaching presence of mankind. If you close your eyes, the collage evolves. When you open your eyes, you see De la Parra, floating like a butterfly, tacking Mahler in six tireless rounds.
The cinematic approach seems modern – possibly because there are shades of Mahler in our most popular stage and screen composers – John Williams, Bernard Herrmann and of course, Leonard Bernstein. (One Hollywood mogul allegedly heard Mahler's music on a temp track for a film and insisted on trying to sign the late composer to his studio.) Mahler also unashamedly 'samples' pieces of other tunes and birdsong. And he foresees the use of 5.1 surround by using drums and trumpets offstage – their sound spilling in from the stage exits.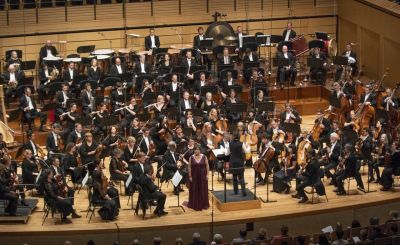 The fifth movement introduces us to the heavenly angels – the celestial choirs courtesy of the Brisbane Birralee Voices, and the ethereal mezzo-soprano from Finland, Lilli Katriina Paasikivi. The final movement – What Love Tells Me – captures the eternal power of love. The finale, as horns, woodwind and strings all crescendo to a sonic climax to the beat of booming drums, is so energising, there is just no way the audience can stay seated – there is an enthusiastic and lengthy standing ovation. We simply want more! To thunderous applause, the conductor stalks the stage, embracing her musicians and making sure that each one shares in the accolades. It is a moving denouement to an incredible night of exceptional musical talent.
When Mahler left Vienna in 1907 to become director of the New York Metropolitan Opera, Gustav Klimt famously declared it to be the end of an incredibly creative era. And I can't help feel that it will be the same when De la Parra leaves Brisbane too. Catch her with the QSO musicians while you can. This performance was recorded so you can share in the experience by tuning in to ABC FM on 30 November, 2018 and 22 January, 2019.
Beth Keehn
Photo credit: Peter Wallis