Produced and directed by Karen Jemison. Presented by Manilla Street Productions. The National Theatre, 20 Carlisle St, St. Kilda. 31 January - 2 February, 2020.
Amazing Grace returns after its premiere in 2018 with a brand-new show that includes a line-up of over forty calisthenic and musical performers as well as live music by the Amazing Grace orchestra. The selection of numbers is impeccable as is the quality of the performance. The show adopts a Busby Berkeley approach to the choreography which is married perfectly with the calisthenics.
The attention to detail in this production is not only seen in the precision and timing of the calisthenics but also in the dancing, lighting, singing, choreography costuming and the musical arrangement. Each number is given its own unique look and feel and the show becomes a wonderful and highly enjoyable survey of familiar hits.
Classics such as New York, New York, America and 42nd Street feature in the show and there is no shortage of glitz and glamour, but the show does not rely on this for its impressive quality. The staging merges the synchronised movement and dancing typical of both the Berkeley musicals and calisthenics competitions and delivers it on a grand and monumental scale. The effect is extremely evocative and creates a real celebratory mood to the show.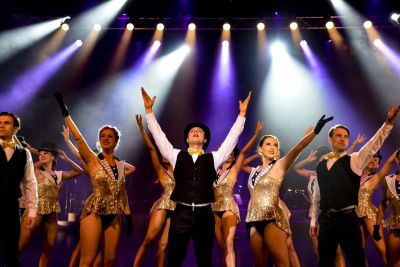 The musical performers (Nigel Huckle, Emily Langridge, Thomas McGuane, Alexis Van Maanen, Stephanie Wall) exhibit real showmanship and are able to capture a tongue-in-cheek tone to their renditions while still taking the genre very seriously in terms of their energy and commitment to the tunes. This approach seamlessly incorporates the callisthenics, and all of this is beautifully supported by the fantastic orchestra.
The two-hour show does not skip a beat and is able to sustain a fun-loving, foot stomping atmosphere for the entire duration of the performance. Amazing Grace is a real testament to the inventiveness and freshness that can be produced by combining and breathing new life into older traditions.
Patricia Di Risio