By Tony Kushner. Director: Peter Kalos. Three Big Men Productions. Chapel off Chapel (Vic). Aug 16 – Sep 1.
Once in a lifetime a play comes along that defines a generation. Set in 1985 and first produced in 1991, Angels in America is that play. Simultaneously comic, tragic, harrowing, poetic, challenging and ultimately spiritually uplifting, it is a masterpiece of modern theatre, and Tony Kushner richly deserved his Pulitzer prize and Tony award. This exploration of life, death and discovering and owning who we truly are, apart from whom we perceive ourselves and others to be, runs a staggering 7 hours in its entirety, so we only see Part 1.
There are three storylines at work:- Joe and Harper are a young Mormon couple living a lie; he's a closet homosexual and she's a prescription meds addict retreating from sexual deprivation into fantasy. Louis and Prior Walter are a happy and committed gay couple, until Prior develops AIDS (the new pestilence threatening to cleanse the world to prepare for the millennium) and their love is crushed under the weight of the redefining disease. Roy Cohn has defined himself as a "heterosexual who f***s men." He's a winner, therefore he's straight. Only losers are homos. In a world where Reagan is God, and America no longer recognises grace and goodness and love, there are no Angels – but they're on their way.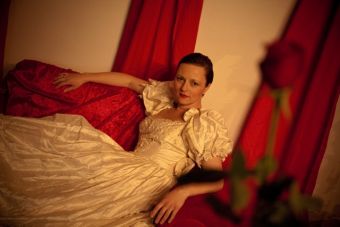 This is an incredibly difficult play to stage as it does not follow conventional narrative. It's a series of vignettes in different locations and times with fantasy and supernatural interwoven. It takes a very brave company to undertake it, and 3 Brave Men (as the name suggests) is that company. The production at the wonderfully eclectic Chapel off Chapel is not without production flaws, but Director Peter Kalos has a marvellous understanding of this beautiful text, and what is really at its heart, and his direction of the actors is astonishing.
If there is a weakness in this accomplished cast (most of whom I have never seen before) it is that accents tend to drift and Australian vowels come into play, most notably with Mark Crees in the key role of Joe. But that's trivial because the heart of every performance is truth and emotional honesty.
Justin Hosking as Louis and William Emmons as Prior Water give memorable and moving performances. Theirs is a real love which is swamped by the disease. You can palpably feel the pain and the guilt as Louis withdraws from the relationship – and in the park scene, Louis begging to be raped and hurt by a stranger, is a moment to stay with you forever. And the slow disintegration of Prior is so convincing it leaves a weight in the audience's chest. Emmons is a very buff actor and looks too healthy, yet still manages to convey his struggle with death, for which he is totally unprepared; breath-taking acting from both men. Ian Rooney as Cohn is charismatic and powerful enough to make us forget Al Pacino's performance in the film/TV series. Cohn is a nasty piece of work, and perhaps one that deserves to die; but AIDS does not discriminate between the good, the bad, and the completely amoral. Bruce Kerr, now 80 years old, brings to the role of the Rabbi all of his finesse and skills from a lifetime of acting, a consummate professional. Josh Parnell as Prior's namesake ancestors 1 and 2 is hilariously funny in scenes which otherwise would be unbearably confronting; and Michelle Celebicanin is impressive as the neurotic and pathetic Harper, the wife who cannot understand why her husband, whom she adores, has no desire for her.
On the production side, someone PLEASE give this company a scrim to project onto and to backlight the Angel's appearance from behind. The pleated white terylene curtains distort images in a bad way, pulling focus. They don't allow the audience to take the journey with Prior and share his dreams/hallucinations, and that's a great pity. This is not a play for the faint-hearted, nor is it a play for the gay community alone. It's a wonderfully written and beautifully played piece of theatre, the likes of which we seldom get to see.
Coral Drouyn
Images: Prior Walter (William Emmons) and his lover Louis (Justin Hosking) & Harper ( Michelle Celebicanin).