Book: Thomas Meehan. Music: Charles Strouse. Lyrics: Martin Charnin. Spotlight Theatre, Benowa, Gold Coast. Director / Choreographer: Kim Reynolds. 14 Feb to 8 Mar, 2014.
Based on the syndicated comic strip character, Annie hit the stage with gusto as Spotlight's Valentines Day gift to the Gold Coast. The audience could "feel the love" as a dozen "little girls" sang, acted and danced their way into everyone's hearts.
With two Annies: Jamieson Schmitzer and Ebony Pitchers, two teams of Orphans and a cast of over sixty, Director / Choreographer Kim Reynolds (ably assisted by Greta Brinsley; who also played Lily St Regis) delivered a fast moving production with plenty of pace. Musical Director Kristine Dennis achieved a great vocal sound.
The Orphans and Hooverville costumes were suitably "shabby" and contrasted beautifully with the Warbucks' opulence.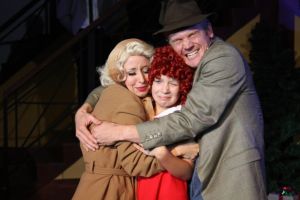 Jacy Moore, as the gin totting Miss Hannigan in search of her Valentine, was suitably vile and aided by her brother Rooster, Stephen Hirst and Lily St Regis made a fiendish bunch of villains. Brad Kendrick and Heidi Enchelmaier were an elegant Daddy Warbucks and Grace Farrell and the supporting cameo roles were delightfully portrayed.
I found that the scenery didn't to justice to the high standard of the production, but nevertheless enjoyed the overall presentation.
This was another strong segment of the Gold Coast Community Theatre scene.
Roger McKenzie