Music and lyrics by Irving Berlin. Original book by Dorothy Fields and Herbert Fields, revised by Peter Stone. Diamond Valley Singers. July 5 – 13, 2019
Annie Get Your Gun is packed full of hit songs, and demands a sense of ensemble, great stylistic verve, and sure musicality from its cast and creatives.
DVS's production of the show managed to deliver on these key elements, particularly in the casting of the principal roles of Annie Oakley (a fiery Sophia Bubner) and Frank Butler (a charming Wade Robinson).
The show opens with Buffalo Bill Cody (Antony Steadman) delivering an almost meditative rendition of "There's no Business Like Show Business". Steadman's sensitive performance of the song (which delivers the core message of the show) allows it to blossom out into a full company number, complete with simple but effective choreography from Claire Colthup, ably executed by DVS's non-auditioned chorus, which also provided vivacious support to the principals as the show progressed: "My defences are down" with Frank and the "cowboys" and Annie singing "I got lost in his arms" with the female chorus were particular highlights.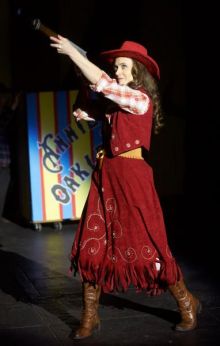 Steadman gives an expansive performance as Buffalo Bill, and has great chemistry with his business partner Charlie Davenport, played by the delightfully reliable Malcolm Wilton. Their solid and confident performances drove the show forward and acted as linchpins for the story's forward momentum.
Sophia Bubner arrived on stage as Annie Oakley with great aplomb, and immediately arrested our attention. Her accent, comedic timing, bluster, and confident twangy singing made Annie shine as a true diamond in the rough. Bubner imbued Annie with ignorant innocence contrasted with her great self-confidence as a markswoman, as she struggled with the sudden complexity of first love, finding her true worth and surviving the jealousy and demands that she diminish herself, particularly from Frank Butler and his assistant Dolly Tate (Nicola Ramsay).
Wade Robinson likewise demanded attention, with his confident and charming performance as the charismatic Frank Butler, unafraid to go head to head with his fiery leading lady. As well as providing a foil for Annie, Frank undergoes a small evolution of his own, realising that he cannot ask Annie to betray herself in order to pander to his own ego.
The chemistry between Frank and Annie took a little while to warm up, but by the time they performed "Anything you can do", the air around them fairly crackled with energy.
The junior romantic leads (Charli Lewis as Winnie Tate and Damon Holmes as Tommy Keeler) both gave rather sweet performances as the star-crossed lovers, including a beautifully-danced and sung reunion in "Who do you love? I hope" with the company; although contrasted against Frank and Annie's confrontational relationship, they appeared almost too conventional.
Nicola Ramsay played the rather thankless role of Dolly Tate. Dolly is jealous and controlling, bigoted and scheming, and seems to be more a series of character flaws than a person, especially as she was also the butt of too many outdated "jokes" about her age and her looks. Ramsay did a good job with unpromising material, and Dolly manages to achieve a happy ending after Charlie lets slip that actually that's why he likes her.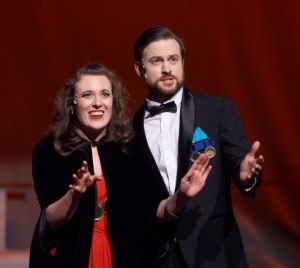 Steve Wilkie had an even more difficult role as Chief Sitting Bull; even given the updated material, and impossibility of finding an actor of suitable ethnicity, it was still unsettling to watch a Caucasian man portray a native American. However, Wilkie imbued the Chief with a calm dignity and a sly sense of humour, sensibly aiming for character rather than caricature.
Other minor roles were played by Martin Gallagher (a deft comedic turn as Foster Wilson, among other parts); and Olivia Dintinosante, Ruby Taylor-Barnett and Solveig Yen were delightfully mischievous and chaotic as Annie's three little siblings, delivering a fantastically fun "Doin' what comes natur'lly".
The rest of the ensemble stepped in and out of characters - as townspeople, the crowned heads of Europe, cowboys and cowgirls, and members of Buffalo Bill's show - as required, and conveyed a sense of fun throughout the show.
Direction by Rin Gallagher was simple and mostly effective, although the stage at times appeared very crowded with sets and props, making her ensemble work around them.
The Eltham Orchestra (under the baton of Marie Louise Wright) took a little while to find their ensemble, but delivered solid support for the cast through the show.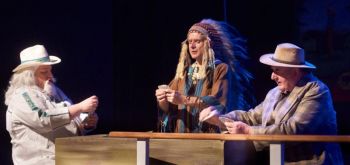 Annie Get Your Gun is loaded with so many well-known songs, and the cast served the material well, as evidence by enthusiastic applause from the audience; and the final test, lots of smiling faces and animated chatter as they left the theatre at the end of the show.
Alex Armstrong
Images from top: Sophia Bubner, Solveig Yen, Olivia Dintinosante and Ruby Taylor-Barnett; Sohpia Bubner as Annie; Sophia Bubner and Wade Robinson & Antony Steadman (Buffalo Bill Cody), Steven Wilkie (Chief Sitting Bull) and Malcolm Wilton (Charlie Davenport). Photo credit TDImages.