Music & Lyrics: Cole Porter. Book: Timothy Crouse & John Weidman Savoyards @ Iona Performing Arts Centre, Wynnum, Qld. Director/Choreographer: Sue Harvey. Musical Director: Ben Murray. 29 September – 13 October, 2012
Savoyards production of Cole Porter's madcap 1930s romp Anything Goes was not only highly entertaining but great fun. The show, which has been intoxicating theatergoers for almost eighty years, is full of hoary old (but funny) gags, a wacky plot about mismatched lovers and gangsters on a transatlantic cruise, and a slew of Cole Porter's most witty and memorable tunes, "I Get a Kick Out of You," "You're The Top," Blow Gabriel Blow" and the title song.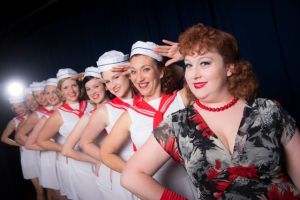 This production which used the revised script presented by Lincoln Center, New York, in 1988, also bolstered the score with songs from other Porter musicals; "It's De-Lovely" and "Goodbye Little Dream Goodbye" from Red, Hot & Blue, "Friendship" from Du Barry Was a Lady, and "Easy to Love" from the movie Born To Dance."
Musically it was a feast of riches which this cast delivered with obvious relish.
Stepping into the wisecracking Reno Sweeney role originally made famous by Ethel Merman, was the buxom Miranda Selwood. Her performance was a class act. She belted her numbers with true Merman brio, led the tap-dancing chorus with frenzy, and landed every laugh in the script. Playing opposite her as Billy Crocker was Savoyards' first-timer Brad Kendrick who also added professional class to the production. He brought an appealing sweetness to the role and also sang well, especially on the languid "Easy to Love."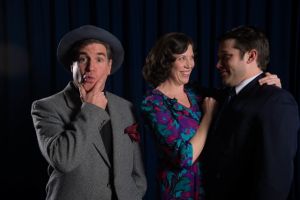 Anything Goes is an ideal musical for amateur groups because of its multiple cameo parts. Warryn James was a funny Moonface Martin, Harold Littler made a likeable Elisha Whitney, Johanna Toia was pompously arch as Evangeline Harcourt, and Angela Clarke as the ditzy Erma pulled off a scene-stealing "Buddy Beware".
From the toe-tapping overture, to the tap-dancing finale, the orchestra under Ben Murray's direction never blew a wrong note. Big kudos to the brass section who were constantly on their game. But for sheer theatricality and audience enjoyment nothing could surpass the eleven minute tap-dancing first-act finale of the title tune. It drew thunderous applause and deserved every bit of it.
Peter Pinne