Music & Lyrics: Cole Porter. Book: Timothy Crouse and John Weidman based on the original by P.G. Wodehouse, Guy Bolton, Howard Lindsay & Russell Crouse. Producer: Opera Australia & John Frost. Director: Dean Bryant. Musical Director: Peter Casey. Choreography: Andrew Hallsworth. Lyric Theatre, QPAC. July 25 – Aug 16, 2015
I don't know what we've done to deserve it but with Anything Goes the musical gods have sent us the most glorious musical-comedy package in years. A perfect cast bring Cole Porter's quintessential piece of 1930s fluff brilliantly to life.
Caroline O'Connor is not only a star but a blazing meteorite that lights up every part of the stage. It's a show-stopping performance. As the evangelist-turned-nightclub singer Reno Sweeney she's broad, brassy, and belts every number to the stratosphere. Whether sensuously delivering "I Get a Kick Out of You", shamelessly mugging on "Friendship", or leading the company in the frenetic title number tap that ends Act 1, O'Connor not only owns the show but also the stage.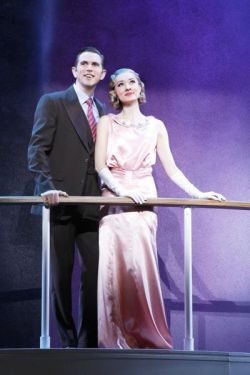 We all knew that O'Connor was first class, but the revelation of this production is how good Alex Rathgeber is as Billy. He tap dances with the best of them, handles the vintage comedy schtick with aplomb, and sings like a dream. Partnered with Claire Lyon as Hope, their sweet vocals of the Porter standards "All Through the Night" and "It's De-Lovely" continually hit the mark.
The other joys of the production, and there are many, are Wayne Scott Kermond as the gangster-disguised-as-a preacher, Moonface Martin, and Gerry Connolly as the Captain. Burlesque and vaudeville aren't dead they've just been in hibernation as these two prove time and time again. Kermond makes a meal of "Be like the Bluebird", with Connolly embellishing every appearance to the hilt. Without them the show would be a lot less lively.
Todd McKenney is appropriately goofy as the silly-ass Lord Evelyn Oakleigh, a character straight out of any Wodehouse novel, and displays his noted terpsichorean ability in a flashy routine that accompanies "The Gypsy in Me" that's a crowd-pleaser.
Debora Krizak drew the laughs on the impossible-to-get-wrong "Buddie Beware", Bartholomew John was a hoot when he'd lost his glasses as Wall Street financier Elisha Whitney, while Carmen Duncan made more than a splash as Mrs Harcourt in her first musical outing. Former Billy Elliot Josh Gates impressed as a flouncy efficient Purser.
Dale Ferguson's set mirrored the 1987 Lincoln Center revival with its Art-Deco glitz and the orchestra placed on the upper level of the ship's two levels with staircases on either side, whilst his costumes nodded to the period's glamour. Matt Scott's lighting was gaudy and piercingly bright, Michael Waters sound was loud but complemented Peter Casey's brass-heavy orchestra which swung Porter's standards to perfection.
Two people deserve five gold stars, Dean Bryant for his direction, which was buoyant and fizzy, and Andrew Hallsworth for his choreography, with the exuberant and exhilarating first act finale of the title tune the pinnacle of the night.
Peter Pinne
Photographer: Jeff Busby
More reading
Our interview with Caroline O'Connor
Earlier Anything Goes coverage / season details