Adapted and Directed by Humphrey Bower. The Studio, The Blue Room Theatre, Perth WA. August 13-31, 2019
The Apparatus is a performance based on the works of Franz Kafka. Essentially a one man show, performed by adaptor and director Humphrey Bower, with some assistance from assistant director/stage manager/support performer Tim Green, it explores themes of absurdity, paranoia and torture, with links to issues of immigration, border protection and masculinity.
The first story, "Before the Law", a parable excerpted from Kafka's novel 'The Trial", acts as a form of prologue for the other stories. Performed in voice-over, the shortest of the three stories contains interesting parallels explored later in in the piece.
'The Burrow', for me, was the strongest of the three parts, and would be interesting even as a show on its own. Performed in very low light (well thought out by Joe Paradise Lui on Rhys Morris' set) it tells of a mole-like creature, who has built an elaborate burrow of which he is exceedingly proud, and which he is determined to protect. The story, which was left unfinished by Kafka (or had an ending which was destroyed), was very poignantly performed, as Bower worked well with the audience to draw us into the underground world.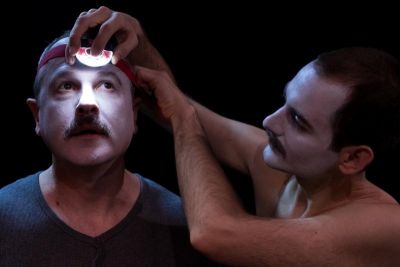 The final story, 'In the Penal Colony' is performed in stronger light, but is the darkest of the three stories. Centred around an explanation of 'the Apparatus", an instrument of torture, it is this device, represented by a plastic chair, for which the evening is named. Ominously, "The Apparatus" has been hanging above the stage throughout the performance.
Humphrey Bower has chosen his pieces well and adapted them with care - but his ability to engage the audience and draw them into his world, with moments of improvisation and conviction of character throughout, makes this a stronger production.
Kimberley Shaw
Photographer: Floyd Perrin