By Isabelle Martinez & David Finnigan. Directed by Louise Howlett. ReAction Theatre. Club Voltaire, North Melbourne. 27 September – 1 October 2017
Here are two short works (together they run for just over an hour) about love – or, more exactly, thwarted love.
There's a good idea underlying the first of the two, Appropriate Kissing for All Occasions: how the personal can derail and sabotage public performance and professional persona. It's the comedy of disruption of expectation and convention.
Dr Toni Stevenson-Smith (Christina McLachlan), counsellor and 'sex therapist', comes on stage with a dazzling smile and boundless, near intimidating confidence. She's going to give us a lecture on kissing – that first kiss (that can make or break), the use of the tongue (with diagram), the spice-things-up kiss between those in a long-term relationship, the goodbye kiss, and so on. Let's not be embarrassed: this is practical advice we can employ in our own relationships – or so she says. To demonstrate each kiss, she asks for a volunteer from the audience. If none are forthcoming, she roams like a shark and picks a victim. As she's quite a looker, she doesn't have too much trouble and – a courageous touch – the kisses are real. The blokes look a bit sheepish – either because they're being watched or because, in the case of Dr Stevenson-Smith, they might get carried away... The intimate nature of the subject matter and of the kisses certainly gets the audience's voyeuristic if uncomfortable attention. Unfortunately for Dr Stevenson-Smith – and this is the joke - she loses her professional detachment as the kisses get more heated than intended and evoke recent and painful memories, embarrassing her and her volunteer as she forgets where she is and whom she's actually kissing…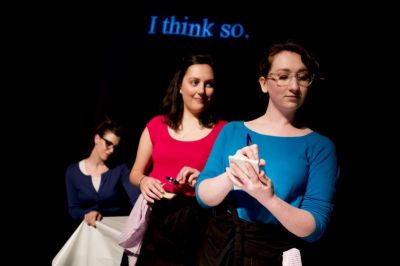 What would improve this concept, however, is a more plausible, cool and detached lecture – i.e. as if Dr Stevenson-Smith were a real sex therapist giving real advice. Kissing audience volunteers? Bold but unlikely. Sabotaging something that isn't too credible in the first place rather lessens the impact. Ms McLachlan is bright, energetic and – as noted – brave, but the text goes straight for 'funny' and lets her down. Director Louise Howlett might have leaned a little more on the writers.
The second piece, To Heat You Up and Cool You Down, takes place in a busy restaurant in which the waitresses, Erin Patterson, Laura McAloney and Ms McLachlan serve customers, clear tables, daydream, reveal their thoughts and feelings, and fall into and out of love. For me, this piece (again it has a good idea at its centre) is over-ambitious and under-realised on the tiny, under-resourced Club Voltaire stage with its limited lighting capabilities, and via the sincere but inexperienced cast – despite Ms Howlett's efforts. There's a lot of busy movement as a contrast to the characters' inner lives, but the connections, character switches and narrative threads get confused. The circular movement of the story – at the end, nothing has changed – is intended, I guess, to be bitter-sweet, but it feels disappointing, a let-down. These award-winning writers can do better – and a venue more appropriate to their concept would help.
Michael Brindley
Photographer: Thomas Saar.