A short play festival for emerging artists. Dionysus Theatre Company. McLelland College Performing Arts Centre. Until Saturday 8th March, 2014.
"Everyone has to start somewhere" is an old adage. On that basis, creative director Emma Sproule – who burst onto the scene in 2012 with an electrifying production of Exit The King – has created the first short play festival for the company, in the hope of it becoming an annual event.
Emma is the first to admit there were teething problems, largely due to lack of experience amongst those chosen. Good actors don't necessarily make good directors, especially with no life experience; potentially good plays can be ruined by bad acting; direction that doesn't take into account that the constant tap-tapping of stiletto heels on the polished wood surface in an echoing hall, drowning out dialogue, needs to be avoided. Despite the downside, there was certainly enough to make the evening worthwhile, and to whet the appetite for what is to come when those bad teeth are removed and beautiful molars come through. So, rather than prematurely knocking out the bad teeth with a killer punch, I will concentrate on the positive and the promise in this fledgling festival.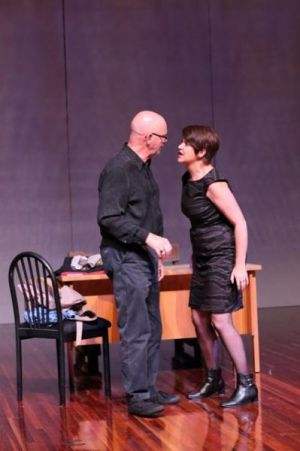 The theme for the night was "For most of history, anonymous was a woman", which basically allowed all six plays and four entr'actes to focus on feminism in its various forms. Brett Hicks, writer of F.A.C.T.S – based in a celebrity news service, seems to have "borrowed" very heavily from Lucy Kirkwood's hit play NSFW – presented last year at Red Stitch. It was quite disturbing to see the similarities. Despite using more cast than the brief allowed, director Emma Sproule, with Riley Spadaro, managed to give us an almost 007 spoof from the overworked script.
Amelia Hunter wins the accolades for her entr'actes, as creator and performer. Her updated iconic "Rosie the Riveter" was sheer delight at every entrance. Amelia, astonishingly good in Exit The King, assembled quotes from celebrities, media, politicians, social media and even religious leaders to create four stunning pieces that are as funny as they are disturbing. Bravo, she was the star of the night.
The writing honours go to Shane Isheev for his compelling Shocked about a radio shock jock at war with his (literal) feminine side. It's a play full of insights about the media using women and our perceptions of what is real. Dark, witty, layered, it has an astonishing twist and is worthy of further production with a professional cast and director more up to the complexity of the piece. The acting honours go to Astrid Wells Cooper in A or B by Emma Workman Bolt, directed by Emma Sproule herself. This stunning actress plays a fat hairy man, presenting as a woman in a world where technology creates, for a price, designer children…from gender up.
While Sproule offered little intervention in most plays, she is aware now that this kind of festival needs a lot of hands-on mentoring. I look forward to next year, when the theme is "Technology proposes itself as the architect of our intimacies" (quote Sherry Turkle.
Coral Drouyn
Photographer: Rebecca Benson