Creative Lead & Production Designer: Bill Haycock, Performance Director & Dramaturg: David Bell. Movement Director: Natalie Weir. The Australian Voices, Topology, William Barton, John Schumann. Music Director: Andrew McNaughton. QPAC Presentation. Playhouse, QPAC. 11 November 2018
Armistice marked the end of the Anzac Centenary period and there could not have been a more fitting tribute, a special theatrical event commemorating the centenary of Armistice and Australia's involvement in war and peace over the past 100 years.
Using archival photos, official war artist paintings by McCubbin and Dobell, poetry by Kenneth Slessor and Les Murray, pop songs and specially commissioned music, the program was not only enlightening, but also very emotional.
A core group of actors playing servicemen, nurses, and loved ones on the home-front, sketched in the vast canvas of scenarios with stunning accuracy.
Gordon Hamilton's "Dark Hour" was an effective ethereal-sounding backdrop to the First World War and beautifully sung by the Australian Voices, whilst the ¾ time signature of Paul Kelly's "When I Come Home To You" was a simple evocation of yearning.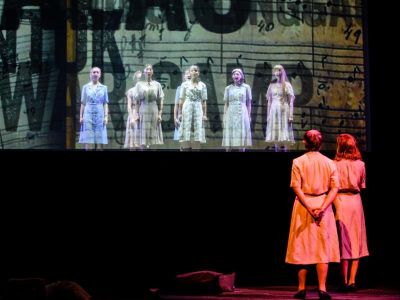 Naomi Price captured the era of Tivoli soubrettes with a big-band "Don't Sweetheart Me" and Slim de Grey's "Castles in the Air" worked well sung by soldiers in a bunker led by Andrew Buchanan, Tom Oliver, Kurt Phelan and Bryan Proberts.
One of the most memorable moments was Andrew Schultz's "Larrakia Lament", when Darwin is under attack in the Second World War. Digeridoo master William Barton was the perfect soloist to perform it, assisted by some authentic dance moves by Tibian Wyles.
Judith Wright's poem "The Company of Lovers" and David Griffin's "Changi Impromptu" were haunting reminders of the period, but it was a series of letters from Private W. R. Kinneally to his wife during his secondment in Vietnam that registered with heartbreak.
Accompanying himself on guitar John Schumann sang his iconic "I Was Only Nineteen", written during the Vietnam War, which was repeated in a new hip-hop version later by The Herd to represent the Gulf War.
Poignancy reigned supreme when the actors brought on stage several returned servicemen at the finale. The house deservedly gave them a standing ovation. QPAC, Bill Haycock, David Bell and lighting whiz David Walters are to be congratulated on this moving tribute which deftly encapsulated the ANZAC spirit.
Peter Pinne
Photographer: Darren Thomas