By Joseph Kesserling. Darlington Theatre Players. Directed by Brendan Tobin. Marloo Theatre, Greenmount, WA. May 3-25, 2019
Darlington Theatre Players are having a lot of fun with this mid 20th century classic about two lovely old ladies who are a little bit too enthusiastic about mercy killing.
I can't help thinking that Brendan Tobin may have chosen this show especially to highlight the talents of his leading ladies. Jacqui Warner as Abby and Kerry Goode as Martha are delightful as the murderous, yet sweet Brewster sisters. Gorgeously and appropriately anachronistically costumed in the Edwardian style by Marjorie DeCaux - whose costumes throughout are lovely - they are wonderful anchors for this still very clever show.
A gorgeous looking show, George Boyd's multi-level, sturdy set gives a sense of history and affluence, with lighting by Michael Hart essential to the plot, beautifully timed by Lachie Kessey. Brendan Tobin's Sound Design, skilfully controlled by Jonathan Masterton, is also admirable.
Hero of sorts Mortimer Brewster is well portrayed, with great energy, by Richard Hadler. He is nicely paired with Tracey Morrison, who is lovely in her first major role, as Elaine Harper.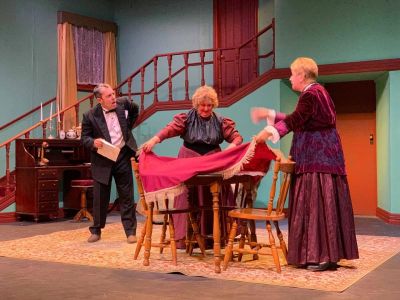 "Mad" brother Teddy, suffering from the delusion that he is in fact Teddy Roosevelt, is played in a lovely "over the top", highly physical performance by Ryan Perrin, while "bad" brother Johnathan is portrayed with menace by Benedict Chau. Johnathan's literal 'partner in crime', Dr Einstein, is given a highly animated interpretation by Harrison MacLennan.
An almost unrecognisable (cleanly shaven) Michael Hart performs double duty, believable as both The Reverend Dr. Harper and Police Lieutenant, with Raymond Egan also creating two very different characters, convincing both as the down on his luck Mr. Gibbs and responsible Mr. Witherspoon. Billy Darlington and David Seman complete the cast as police officers Brophy and O'Hara. The dead bodies we see are not as convincing as the actors in this show, but this perhaps makes this show more family friendly.
This is a play that reviewers come across reasonably often, but I really enjoyed this earnest, well presented version with its high production values. Good clean, if murder filled, entertainment.
Kimberley Shaw