By Kirsty Budding. Free-Rain Theatre. Directed by Cate Clelland. Courtyard Studio, Canberra Theatre Centre. 22–25 October 2015
This romp has it all: power plays, secret relationships, mystery, sex, more secret relationships, and lots of comedy. When a new teacher arrives in a school that has given up on genuine education and a faculty beset by mismanagement, inadequacy, and political correctness, she finds encouragement in just two people: the vehemently indifferent young art teacher, and three A-grade students -- and she is instructed from the top to find unfair fault with the work of the absolute star of the year. But the school's executive team soon finds itself being pilloried in a blog that reveals the scandalous details of the team's corruption.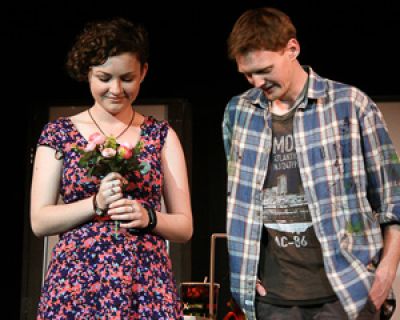 The actors, including Rob de Fries (The Memory of Water, The Reluctant Shopper), as the principal; Brendan Kelly (The Reluctant Shopper, The Mousetrap), as the art teacher; John Kelly (Chicago, Return to the Forbidden Planet) and, memorably, Liz Bradley (August: Osage County, Much Ado About Nothing), obviously enjoyed their roles, even to a death scene. The performance's energy gave it an extra kick of comedy. Many of the play's lines, rich in meaning as well as deft, could nonetheless have been played in a far more understated way than several of the characters played them. Over all, though, the acting did justice to the script's intentional misdirections, and the script's occasional forays into obscenity, along with its truly comedic moments, were pitched to seem appropriate rather than gratuitous.
The Courtyard Studio's being rather long and narrow offers interesting challenges and opportunities in set design, and director Cate Clelland met the challenge using lighting. It was difficult to ignore occasional exits from a darkened scene close to the newly lit next scene, due to light spill onto the actors, and a different set might have enabled an exit from the set's other end, but no greater distraction than that marred an otherwise well-handled play.
The play's wordsmithery caused me some regret at having seen nothing before by this new playwright. The play is a gem, and Kirsty Budding is a name to watch.
John P. Harvey
Images: top [L–R] Arran McKenna, Marti Ibrahim, Liz Bradley, Elaine Noon, Glynis Stokes, and John Kelly, and lower [L–R] Glynis Stokes and Brendan Kelly, in The Art of Teaching Nothing. Photographer: Tracey Rice.