By Jayde Kirchert. Citizen Theatre. Melbourne Fringe. Theatre Works. September 28 – 30, 2018.
Ascent is an amazing experimental fusion of sight and sound!
The story revolves around a woman who is having a serious body image crisis and a chorus of mocking and witty assistants who rally around her. Along with her exquisite team of creatives, writer and director Jayde Kirchert has developed a beautifully choreographed and composed piece of animated theatre.
The performers dressed in black (Kala Gare, Jordan Barr, Marty Alix, Jessica Velucci, Willow Sizer) are spritely animated, morphing and contorting in the dimly lit space. It is all so romantic, they claim, while the worrisome woman looks on in dismay, claims she has a smelly problem and desires to be fresh.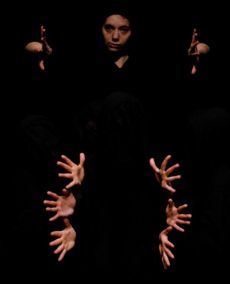 The social pressures in keeping oneself nipped, tucked and perfect is a concern for Kirchert, highlighting female self-loathing and narcissism as thematic devices. The songs are short and simple, with "smelly song" taking precedence, creating playful havoc while appearing to be very unsettling for our worrisome woman.
Ascent is minimalist in set (Stu Brown) and lighting design (Ashleigh Barnett), which combine to create stunning optical illusions that are highly effective and magical. The space is predominately dark with the use of spot-lights, cleverly positioned, highlighting limbs, arms and hands as they caterpillar their way across the stage. The use of puppetry (wigs on sticks), is mischievously orchestrated into the many fanciful dance routines.
The musical composition (Imogen Cygler) is cyclic and seamlessly timed with the performance; meshing a range of whimsical, dark and emotive aural tones that are enchanting, beckoning and aurally delightful.
Flora Georgiou
Photographer: Stu Brown