Speak Percussion. Arts House North Melbourne. September 5 – 9, 2017
This new work presented by Speak Percussion is a collaboration between composer/director Eugene Ughetti, performance maker Clare Britton and visual artists Cyrus Tang and Jia Jia Chen.
Three percussionists, Kaylie Melville, Matthias Schack-Arnott and Eugene Ughetti, draw us into the performance as they sit at a production line, totally focused on sliding, scrunching and tearing paper. This sounds banal, but the variation and rhythm created becomes hypnotic.
They seamlessly move to a totally different set of everyday objects which are manipulated in ways that surprise us. We know these individual noises but the clever combinations of sound create a soundscape that moved from gentle and romantic to horror movie unsettling.
A third section moved us into a 21st century factory, using the recognizable musical sound of keyboards to build a much more frenetic atmosphere.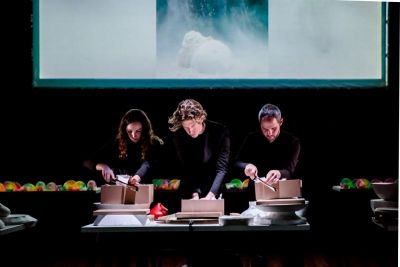 The lighting in this section was particularly prominent and integrated – I assume the lighting was midi triggered at this point; if not, all praise to the lighting crew!
During the performance video projections upstage complemented the sounds created but I found my attention was consistently drawn back to the percussionists.
Technically the performance was very tight; the lighting completely supported every mood onstage, and the sound design allowed us the hear every scrunch and drag.
Assembly Operation by Speak Percussion is an extraordinary aural journey.
Shirley Jensen
Photographer: Bryony Jackson.