By Albert Belz. Melbourne Theatre Company. Arts Centre Melbourne, Fairfax Studio. 27 October – 8 December 2018
Here's a show in primary colours, chocka with exuberance, energy and comedy set in 1980s Geelong. Director Sarah Goodes' comic flair is demonstrated as she keeps the show racing along with seamless transitions, spirited performances and missing no opportunity for another sight gag. At the same time, Associate Director Tony Briggs keeps the show grounded in the experience of an indigenous family.
There are apparently functioning video game machines (Pac Man, Dragon's Cave, Defender – wheeled out and off again by Stage Manager Christine Bennett – in costume), there's a BMX bike, the occasional rumble, a 1980s greatest hits soundtrack and some great dancing – break and cheesy 80s stuff. With a cast of only six and some straight to the audience narration, it's amazing how much story and a whole milieu is suggested to us. Geelong is the world for these characters and even Melbourne is far away. For playwright Albert Belz, it's a nostalgia trip, a fond memory of the time he spent in Geelong in the '80s – but there's no wallowing: the show is light and bright, and, as Mr Briggs says in a program note, it has heart.
Jiembra 'Jimmy' Djalu (pocket rocket Kamil Ellis) is an incipient maths genius and video games player, but he's bored in school and always in trouble. His Mum Michelle (Elaine Crombie) moved Jimmy, his brother Sonny (Calen Tassone) and sister Natalie (Tahlee Fereday) down from Townsville to Geelong when Jimmy got in big trouble with the police. Meanwhile, Dad is far away in WA and Jimmy misses him badly. He spends a lot of time in the local 'Astrocade' video games arcade, where he's holds the record on all the machines – well, those that work, since the proprietor Mr Pavlis (Tony Nikolakopoulos) is pretty slack with maintenance – and despite being harassed by local bad boy, poor little rich kid Mick Jones (Nicholas Denton).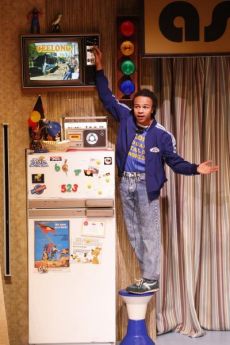 Elaine Crombie has the most expressive face: a grimace or a moue supplies half a page of dialogue and gets a laugh every time. Calen Tassone, as the footy loving, shy, timid but loyal brother is just right. He gets laughs by not being tough and, for instance, when he has to take over some narration and is almost too shy to do it. A delightful addition is natural comedienne (and dancer!) Tahlee Fereday as the sister on roller skates, desperate to be noticed and who tames the bad boy (as we knew she would) in the end – plus doubling as Jimmy's middle-aged schoolteacher, the flirtatious Mrs Taylor. Mr Nikolakopoulos plays it straight down the line as the widower curmudgeon who goes out on a limb to stage the World Video Games Championship. And while Nicholas Denton may be just a little too slight to be a real menace, he more than makes up for that with the total conviction of his racist, sneering provocations of our hero – which makes him all the funnier when this façade crumbles away.
Jonathan Oxlade's all-purpose set and Niklas Pajanti's lighting solve the problem of the many scene transitions and locations, cunningly giving us the Djalu family home, a school classroom and the central 'Astrocade' itself.
Okay, yes, maybe 'Astroman' goes on a little too long and has too many endings. Maybe the characters are 'types' and the story is somewhat predictable (like a pantomime), but this cast infuse their characters with such detailed heart and life, and even if we can guess how the story turns out, there's a lot of fun in seeing how it turns out. It's a great entertainment. If it wasn't for all the (perfectly realistic) 'coarse' language, this would be an ideal show for kids eight and upwards. On opening night, the cast got a standing ovation and even if that's becoming standard these days, this cast deserved it for giving the show all they've got.
Michael Brindley
Photographer: Jeff Busby