Music & Lyrics: Robert Lopez & Jeff Marx. Book: Jeff Whitty. Based on an Original Concept by Robert Lopez & Jeff Marx. Townsville Choral Society. Director: Sandra Neal. Vocal Director: Rachel Cairns. Choreographer: Jeremy Poi. Orchestral Director: Ryan Christoffersen. January 27 – February 4, 2012
Townsville's Choral Society took something of a gamble with their January production of Avenue Q; will audiences take to a cast of puppets, people and monsters? Is Townsville ready for live "puppet-sex" on stage? You bet, and the gamble paid off.
The cast of ten humans and numerous "people with fur" was tightly directed and the end result was an undoubted hit. The multiple Tony Award winning musical was a professional production worthy of any venue in the country.
It is difficult to single out individual cast members, but Tyler Chin's cross-dressing performance as Christmas Eve is most worthy of mention. There would have been many in the audience who wouldn't have had an idea of the real identity of the actor.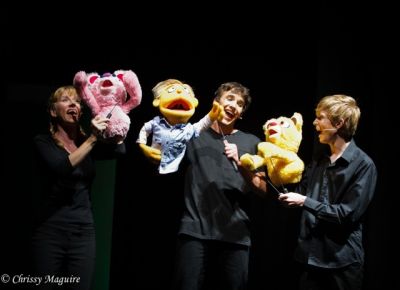 Finn Buckle and Jodie Bell made Princeton and Kate Monster come to life. Their sensitive and yet hilarious antics had the audience in various stages of sympathetic clucking through to side-splitting laughter.
Avenue Qis basically a story of self-discovery, love and friendship and this tight ensemble presented it in an hilarious but sympathetic interpretation.
Ray Dickson
Photographer: Chrissy Maguire.
To keep up with the latest news and reviews at Stage Whispers, click here to like us on Facebook, or follow us on Twitter.