Music and Lyrics by Robert Lopez and Jeff Marx. Book by Jeff Whitty. Hills Musical Company (SA). Stirling Theatre. November 9-24, 2018
Avenue Qfirst arrived on stage in 2003 and has been delighting (and shocking) audiences around the world for this past 15 years. Coming from the courageous genius of Jeff Whitty, Jeff Marx and Robert Lopez, it broke the mould of musical theatre by presenting a very adult story in a Sesame Street-like context. Having personally seen Avenue Q three times now, it still causes my ribs to ache!
Whilst Avenue Q clearly gives homage to children's television and its part in our growing up, it provides a unique opportunity to look at what growing up is and how the real world challenges us. It shows us that we all have struggles - be they unemployment, loneliness, trying to come to terms with sexuality. It unifies us all in a joyful 'furry and felty' romp of discovery.
In terms of using muppet-style puppetry and teaching us "lessons", however, that's about as close to Sesame Street both physically and metaphorically as it gets. This show is rude, raunchy and full of dirty puns and inappropriate content! And I love it!
For Hills Musical Company's production, Director Gordon Combes has assembled a brilliant cast of local actors and singers who tick every box. They bring to the stage characters that are so genuinely relatable and funny, while creating a feast for the eyes and ears.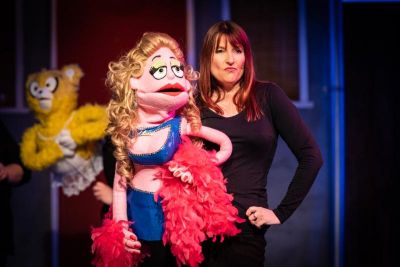 Avenue Q cleverly uses both puppets and real people as characters. The puppets are skilfully manipulated by actors, who are visible onstage and deliver the dialogue and songs. These talented actors are perfectly in sync with their puppet counterparts. I could not fault their skill – to the point that one forgets they are there and ends up watching the puppets only.
The set, by Gordon Combes and Russell Ford, is eclectic and colourful. Whilst reminiscent of Sesame Street, there is a sense immediately that this place is somewhat tired. The set is multipurpose, recognisable as a borough of New York because of the garbage on the street (go there, you'll get what I mean) and cleverly includes doors that open to show when scenes are internal and external.
Sesame Street was always known as an educational show and apart from the obvious parodies, we are 'educated' in a very different way, by a large TV screen during and between scenes. There are even moments during interval where the Bad News Bears (Vanessa Shirley and Emma Wilczek) give us pearls of wisdom and some dubiously inappropriate health hints. Having grown up with Sesame Street, I was belly laughing at the clips on "One night Stands", the definitions of words and a rather interesting placement of an ad about finding the right Hole- I'll leave that right there!
Lighting by Matt Ralph is excellent – coloured LED's add effect and are complemented by the use of smoke in more dream- like moments. The use of over- door lamps is also very effective in creating night moments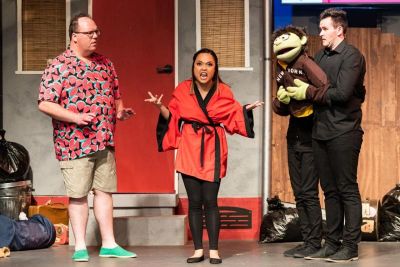 The songs in Avenue Q are very memorable and laugh out loud funny in places. Harmonies in this show are excellent and the band, led by Paul Sinkinson, is tight. Two songs that stood out for me as an audience member, were Kate Monster's (Kate Hodges) very poignant rendition of "It's a fine line" and Trekky Monster's (Ian Buxton) wonderfully inappropriate "The Internet is for Porn". Choreography by Sarah Williams is appropriate without being overbearing on the small stage.
This is a true ensemble piece, so it is difficult to single out every individual performer- suffice to say all were excellent in their respective roles. However, special mention needs to be made of Kate Hodges and Michael Bates- perfectly cast as Kate Monster and Princeton. These two skilful actors, who both have beautiful voices, bring innocence and joy to their roles. Shelley Crooks is delightful as the sensuous and slinky Lucy the Slut- what she can do with a pole! Ian Buxton's acting and vocals are excellent as Trekky and the wonderful 'Ernie and Bert-like pair', Rod and Nicky (played by Ray Cullen and Warren Logan) are a delight. Honourable mention goes to Mark Delaine (Brian), not only for his hilarious performance but his plethora of colourful shirts!
Costuming by Anne Humphries as always, is excellent and her sushi-inspired wedding dress for Christmas Eve is a sight to be seen!
This show is an absolute must see. You will leave the theatre sore from laughing, but uplifted by its message. In an era where humanity is so self-obsessed about finding purpose, Avenue Q reminds us that the more we help others, the better our life is.
This show is right up my street (avenue)!
Shelley Hampton
Photographer: Mark Anolak