Music and Lyrics by Robert Lopez & Jeff Mark. Book by Jeff Whitty Based on an original concept by Robert Lopez and Jeff Mark. Directed by John Boyce. Brisbane Arts Theatre Playing Nov 10 – Dec 22, 2018
Avenue Q is a poor, run down area of New York where a cross-section of people have gathered to survive while looking to advance their lives. A young graduate from Princetown, hence his name, arrives while he searches for his purpose in life and, in the process, meets people, falls in and out of love. This play displays the full range of human emotions in explicit deeds and language, as is the modern norm. Where this play is very different is that all but three of the characters are puppets. Mind you they are not the pure Sesame Street puppets but more a true reflection of the human being, both good and bad.
The set attracts the audience from the very beginning as it is the base on which the play is built. The two level set created the atmosphere of poorer New York and allowed for the freedom of movement that was essential. Director John Boyce has used the set to the maximum effect with the well directed movement of his talented cast.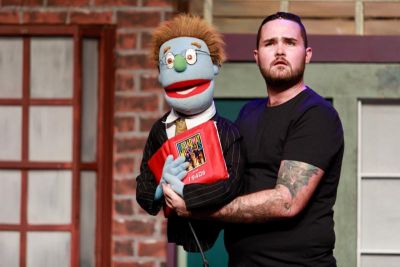 Princeton and Kate Monster were the two puppets that were central to the play and they were both very good. This was helped by being manipulated by William Toft and Lara Boyle, both of whom could sing very well with good vocal skills. Matt Shield, Jordan Boyd and Natalie Mead played the humans success fully competing against the puppets. Actually, there was not a weak performer in the entire cast.
What I found intriguing was how the puppets became the focus of attention with their images and personalities and their manipulators melted into the background. This is a very good production.
If you have not seen Avenue Q previously, I recommend you do this time. Well done.
William Davies