Bangarra Dance Theatre. Artistic Director Stephen Page. Musical compositions by David Page and Stephen Francis. Choreographed by Frances Rings, Jiri Kylian, Stephen Page, and Elma Kris. Presented by Bangarra Dance Theatre. QPAC Playhouse Theatre, 23 - 31 Aug 2019
Bangarra Dance Theatre's 30th anniversary opening night performance at QPAC was a welcome homecoming for Artistic Director, Stephen Page and many of his dancers, who are also Queensland-born. The title of the piece sets its theme clearly in celebrating our rich indigenous history. Each piece in this three-act performance showcases the versatility of Bangarra's ensemble of 17 dancers in interpreting very different choreography styles.
Frances Rings' Unaipon uses a modern abstract style to investigate the ancestral and celestial. The piece portrays universal and earthly awakenings and scientific concepts in a multimedia sketch of Aboriginal inventor and writer, David Unaipon. The dancers embody his obsessions with astronomy, perpetual motion, his own Aboriginal culture along with the religion he was brought up in as son of a missionary preacher. As a songline map of Unaipon's spirit, much-missed composer, David Page is ever-present in this piece. His music uses a fusion of electronica, beats and classical composition that is unlike anything I've ever heard. It highlights the importance of Bangarra's musical legacy too.
In stark contrast, Jiri Kylian's Stamping Ground has the dancers performing a blend of what most people would see as traditional Aboriginal and Torres Strait Islander movements with jazz-like shimmying in a blend of Dreamtime and European fairytales. Younger audiences would love this often humorous piece. The story behind the piece is fascinating: Czechoslovakian dancer and choreographer Kylian visited Groote Eylandt in North East Arnhem Land in 1980 where he witnessed a corroboree of a thousand dancers. His work deliberately avoids stealing from the indigenous dance. While showing its age as an 80s creation, and not quite as strong as the traditional dance styles that inspired it, the piece's history shows how inspirational and important collaboration can be.
To Make Fire is a miscellany of Bangarra's own unique styles, combining Aboriginal and Torres Strait Islander dance and movement from past set pieces in the company's repertoire. Choreographers here are Stephen Page and former Bangarra dancer Elma Kris. It's a strong finishing set with many scenes that show off the strength of this troupe's style – the collective force of seeing its ensemble of dancers performing together on the stage. A deceptively simple set design by Jacob Nash and Peter England uses a rock formation that shows shadows of human forms and takes on colours of the landscape. Smoke hangs in the air, suspended in light, and brings in a connection to the earth as well as the stars.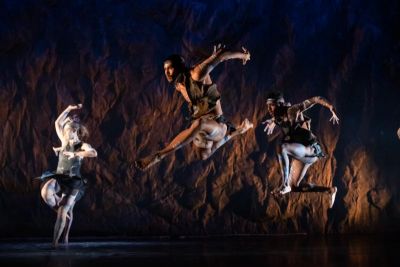 Another crucial design element, the costumes by long-time Bangarra collaborator, Jennifer Irwin, are inspired – portraying a range of concepts, from primordial molluscs, native flora and fauna to colonial settlers and Dreamtime spirits. I would urge everyone to see Bangarra perform at least once in their lifetime – and 30 Years of Sixty-Five Thousand is a good place to start if you haven't seen the ensemble before. There is much to celebrate in the group's achievements – through their deep creativity and fresh takes on our nation's stories, the company is keeping a unique spirit alive – through stories and songlines, dance and language – a multimedia mix that all audiences can connect with and embrace as our Australian cultural heritage.
Beth Keehn
A powerful and stunning evening of dance is a most fitting way to celebrate the 30th anniversary season of Bangarra Dance Theatre. Australia's premier Indigenous dance company is presenting a program of three works that combine traditional and contemporary choreography styles.
Act one consists of Unaipon, a study of the life, philosophy and work of Ngarrindjeri man David Unaipon. While many have seen his depiction on the fifty-dollar note, few are aware of his achievements as a brilliant Aboriginal inventor, philosopher, writer and storyteller. The dance is broken into three themed chapters covering the most important influences in David's life: Ngarrindjeri, Science and Religion.
The fifty-dollar note has inspired the artwork on the scrim at front of stage, which remains in place for the Ngarrindjeri section of the dance. Nick Schlieper cleverly uses lighting design to strategically obscure and reveal the dancers behind the screen at the correct times.
The start of the show is nothing short of magical. In the beginning has a voiceover reading David's philosophises on our place in the universe and consciousness itself. Lighting represents Indigenous constellations and a stunning visual effect has the dancer, Tyrel Dulvarie, floating through space, moving in a fluid, dreamlike fashion. Dulvarie in the role of Unaipon is graceful and beautiful. You're captivated by this tall, lithe man, with that faraway visionary look in his eyes.
Sister baskets follows, drawing your eyes to the earth instead of the stars. Six strong, agile women begin the sequence with movements evocative of emu. The Ngarrindjeri are famous for their intricate weaving, and Jennifer Irwin's costume design wonderfully incorporates woven elements which choreographer Frances Rings has the troupe use to great effect.
String games features the men in an acrobatic, metaphoric representation of the methods used by Elders to pass on stories and knowledge to the younger generations. While all dancers show great strength and ability in this work, Beau Dean Riley Smith particularly stands out for his focus and intensity. Costumes the colour of red earth cling to the men as tightly as the strings that wind around their bodies. You feel their intense connection to lineage and storytelling is well represented by the taut strings.
The scrim rises and a strip of lighting ascends centre stage for Science. David Unaipon was significantly influenced by Newton's three laws of motion. This is unmistakably a choreographer's dream theme and Frances Rings doesn't disappoint. In Motion the dancers demonstrate scientific formulas: cause and effect, a body remains in action unless an external force is applied to it, every action has an equal and opposite reaction.
Four winds explores the seasons and contains some of the most brilliant costuming of the night. The choreography and costuming are inspired by the landscape and indigenous culture, the relationship between people and the land, and survival. All costumes in this section are like added dancers, enhancing each movement. The grass costume in particular is stunning.
Power is another choreographer's dream inspirationally speaking. David Unaipon was fascinated by the idea of perpetual motion. This is expertly represented with dancers partnered in what looks like a human perpetual motion machine. Repetition, lifts and turns are used very effectively to achieve this.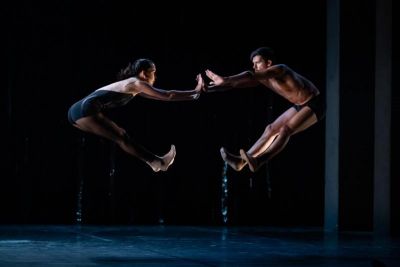 The final part of Unaipon, Religion fuses the Christian with the Indigenous. You'll be forgiven for having an epiphany as dancers perform to Gregorio Allegri's Miserere mei, Deus; it's unabashedly spiritually uplifting.
Unaipon is so wonderful, you feel spoiled to have a second act after interval. It opens with Stamping Ground by acclaimed choreographer Jiri Kylian who came to Australia in the 80's to study indigenous dance.
The homage doesn't seek to appropriate, but instead to take inspiration. The choreography contains a lot of fun and humour. There's also a dash of that European sex appeal and a little bit of Fosse dynamism. You can tell the dancers are enjoying the chance to show their quirky sides, with Rika Hamaguchi, Ella Havelka and Tara Gower outshining the gents with funny facial expressions and good comic timing. Entrances and exits through a backdrop of black strips heighten the entertainment factor and give the piece Euro-pizazz.
The finale, To Make Fire celebrates 30 years of Bangarra Dance with flashbacks to past favourite dances and shows. It occurs beneath an imposing backdrop evoking a rugged outback red rock cliff face. Kudos for this stunning set design goes to Jacob Nash and Peter England.
Choreographer and Artistic Director Stephen Page has grouped dances into themed sections: Mathinna – historical narrative work about colonialism and a young indigenous woman stolen from her family; About – explores the culture, story and connection of the Torres Strait Islanders to country; while Clan looks toward the future with hope, and a passion for continuing to share stories and culture that dates back 65,000 years.
One of Bangarra's great strengths as a production company is the close collaboration between artistic director Stephen Page and set designer Jacob Nash, lighting designer Nick Schlieper, costumier Jennifer Irwin and Stephen Francis on musical composition. The result is always this perfectly realised artistic vision. Every technical aspect lifts the other up. Only the soulless would fail to be moved by such masterful work. Happy birthday Bangarra, here's to 30 more amazing years ahead.
Kiesten McCauley
Photos by Daniel Boud