By Ursula Yovich and Alana Valentine. Songs by Alana Valentine, Ursula Yovich and Adm Ventoura. Director Leticia Caceres. A Belvoir Production. Queensland Theatre, Billie Brown Theatre Brisbane . May 1 – 24, 2019.
What an interesting, intriguing and absorbing play this really is. We follow the path of discovery - really re-discovery – of indigenous singer Barbara, who is singing with her band The Camp Dogs at some lowly gig as she seeks out close family in Darwin and then Katherine. She is joined by sister Rene, also a singer, on the long motor bike trip. This was not only about the physical distance travelled but the even longer emotional one as they go back into the past of their family life and their people's history. We followed this path via the music, ranging from driving rock to sentimental emotional ballads, and the conflict between the sisters. It was very effective. At times the language and gestures were challenging but the audience felt the full range of emotions too.
The director has set the play in a country pub with a raised platform for the band, while the acting area had various furniture pieces which were used for many purposes. The dining tables of the set were used by some of the audience. This made everyone more involved. Clever and very effective. Ursula Yovich, Barbara, and Elaine Crombie, Rene, were excellent as the sisters, both in their acting and singing. They certainly had no inhibitions in either gesture or language. Troy Jungaji Brady added balance towards the end as brother Joseph.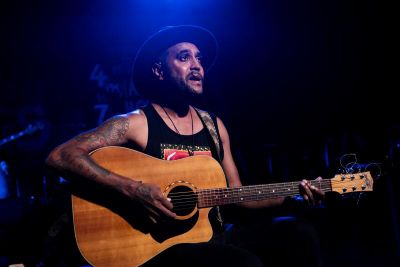 The Camp Dogs were Sorcha Alburquerque as lead guitar, Michelle Vincent on drums and Jessica Dunn on base. This talented group drove the balance between spoken and singing drama. Jessica was the performance musical director.
Queensland Theatre has done the locals a big favour by bringing the production to Brisbane. It entertained me fully, while getting emotionally involved and thinking. A very good production that I very highly recommend.
William Davies
Photographer: Brett Boardman