Music by Damon Intrabartolo. Lyrics and book by John Hartmere. Hand in Hand Theatre. Directed by Claire Mossel-Crossley. Nexus Theatre, Murdoch University, Perth. 22- 25 Nov, 2018
I feel it is important to preface this review by saying that my enjoyment of this production was spoilt for this show by an audience that were rude, immature and selfish. When I saw this musical ten years ago in Perth, the subject matter, which includes a homosexual relationship between two young men in a Catholic Boarding School, might have been more controversial, but the audience (in a community theatre) were seemingly unfazed. I am shocked and saddened that in 2018, in a university setting, that boys kissing is met with laughter and derision. An interesting argument for the continued relevance of this show in a post marriage equality world. The show has not dated as much as I would have hoped.
Kudos to the young cast for persisting and delivering good performances under less than ideal circumstances. In addition to the audience problems, sound levels were not at their best on opening night, although things improved as the show progressed.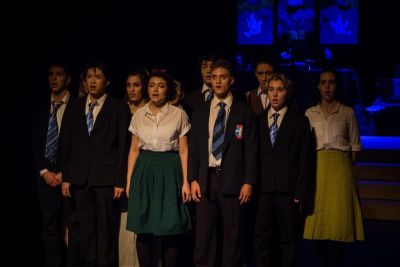 The chemistry and relationship between the two leading men was impressive, with Charlie Darlington (Peter) and Benjamin Albert (Jason) delivering heartfelt and believable performances. Ivy Halford was lovely as Jason's sister Nadia, in a beautifully crafted performance, while Shannon Rogers brought depth to the role of Ivy.
Strong support came from the ensemble of students, all of whom could convincingly play 17. Michael Surjan (Matthew) and Maximiliano Laffont (Lucas) were particularly memorable, but all were working hard throughout.
Annaliese Lockhart as Peter's mother Claire brought layers to her role in a good performance. A late addition to the cast was Mahali Selepe as Sister Chantelle, a newcomer to theatre, with a gorgeous voice and presence. Another late casting was Thomas Dimmick, who works well, although very young for the role.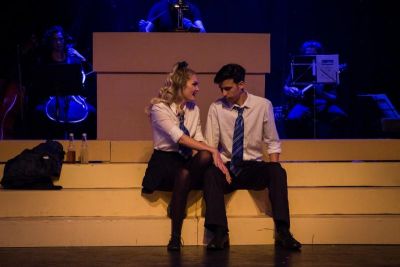 Musical director Krispin Maesalu leads a small band placed at the rear of the stage. Amanda Reynolds on cello has moments to shine - playing beautifully.
The set, essentially a huge stained window, and altar of a Catholic Church, is nicely constructed and works well both as a multi-setting and as a symbol of one of the many barriers to the relationships of the young characters.
While bare is often uneven, and a little rough around the edges, the passion, energy and verve of this young production makes it worth seeing, and if opening night's audience is any indication, its messages and themes are still very much worth hearing.
Kimberley Shaw