Created by Baz Luhrmann. Book by Luhrmann and Craig Pearce. Adapted by Terry Johnson. Music by Various*. Presented by Gosford Musical Society. Laycock Street Community Theatre. July 26th – August 10th, 2019.
Whether by choice or lack of suitable options (likely the latter), Strictly Ballroom is the Gosford Musical Society's first foray into Australian musical theatre in well over a decade and it's a triumph!
It's always refreshing to hear Australian accents on stage and, judging from the audience reaction to the show, it's also warmly welcomed. These are our stories; we should be seeing more of them on our community stages.
Strictly Ballroomtells the story of the Hastings family who, along their close network of friends and foes, are obsessed with competitive ballroom dancing. It pits son, Scott Hastings, against his family and everything he's trained for – grappling with feelings of love and yearning for a life that's his own, alongside newcomer Fran. To the untrained eye, it may seem an overdramatic portrayal of the world amateur dance; this reviewer can assure the uninitiated - it's not.
The adaption of the script itself feels somewhat underdeveloped compared to recent Australian movie to musical adaptions such as Priscilla and Muriel's Wedding, some moments soar while others feel like clichéd moments designed simply to integrate the film's key songs. Twenty or so artists could be or are credited as 'Music by'. Several of the new songs spark, but very few catch. Simone Hales' orchestrations maintain the score's overall continuity despite its sudden changes between epic ensemble/ballroom numbers and chart-topping power ballads and comic duets.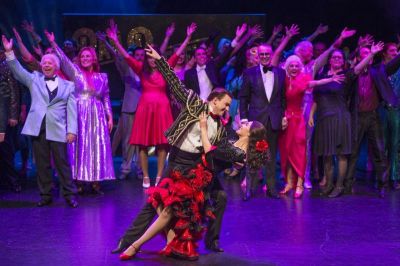 Karen Snook, a stalwart choreographer of the company, has leapt into her first director's role, landing firmly on her feet. She, along with her team, Musical Directors Christopher Hockins and Nathan Barraclough (and their incredible orchestra), Choreographer Ashlea George, and ballroom trainer Sara McDonald, have created a truly magical production, that feels completely fresh and contemporary for the company. The production design is vivid and well executed. Stuart Smith's stunning lighting and set design is married beautifully with Kylie Preston's dazzling costumes and Joseph P. Issa's perfectly period wig and hair design.
Before this performance, it was explained Callum Bright had learnt the part of Scott Hastings in just 3 weeks. Even without this information he was a standout, with it he steals the show. Felicity Calwell shines, creating an exquisite portrayal of Fran, confidently matching the energy and gravitas of Bright. The pair have a real connection on stage, their rendition of "Time After Time" was flawless.
Simone George and Marc Calwell as Shirley and Doug Hastings are a match made in comedy heaven. Calwell delivers an incredibly poignant performance and George commands the stage every time she's on it.
Tim Page, as loveable dance teacher Les Kendall, and Chris King, as a stickler for the rules Barry Fife, are well cast in their roles. Michelle Walls' Abuela, against Felicity's Fran in new song "Leap of Faith", is heartbreaking, and special mention must be made of the youngest cast members Chloe Lockwood as Kylie Hastings** and Will Dyson as Luke**, for the energetic number "Let's Dance" that comes late in Act Two. Dean Snook as Rico, Jessica Williams as Tina Sparkle, Joseph Issa as J.J Slivers, Hayley Lindell as Liz Holt, Gareth Davis as Ken Railings, Xander Cross as Wayne Burns, and Danielle Hochkins as Vanessa Cronin each deliver entertaining performances and round out the lead cast marvelously.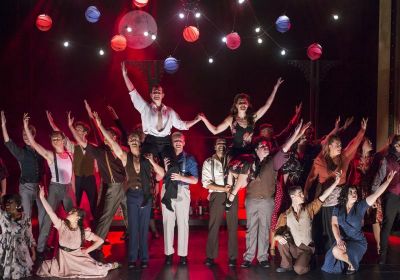 Not one member of the company pulls focus, each dedicated to more than just their performances. The entire company works together as one, and for a production that began rehearsals in the theatre merely days ago, very few technical glitches were noticed - a true testament to the professionalism of those involved.
Quite simply, Gosford Musical Society's production of Strictly Ballroom is the best show this reviewer has seen on the Laycockstage in the last decade. It is a visual masterpiece, that on scale far outshines the recent professional production. Even the small car-sized mirror ball got its own applause. It will be one of those shows people wished they'd have seen, and the lucky ones who hold tickets to the already sold out run will be glad they saw.
Joshua Maxwell
* Program Credited; David Foster, Sia Furler, Isaac Hasson, Bernie Herms, MoZella, Theron Feemster, Craig Pearce, Eddie Perfect, Linda Thompson, Elliot Wheeler, and Luhrmann. As well as music by Cindy Lauper, Rob Hyman (Time After Time), John Paul Young, Harry Vanda, George Young (Love Is In The Air), Daniel Flores (Tequila), Osvaldo Farrés (Perhaps, Perhaps, Perhaps), Johann Strauss II (The Blue Danube) and others.
** The roles of Kylie Hastings and Luke are performed at alternate performances by Charlotte MacPhail and Eli Gracia.