Book by Douglas McGrath. Words and music by Gerry Goffin and Carole King, Barry Mann and Cynthia Weil. Michael Cassel in association with Paul Blake & Sony/Atv Music Publishing & Mike Bosner. Sydney Lyric Theatre. Opening Night: September 23, 2017.
It's often a little glib to say an Australian production is as good as the Broadway original, but in the case of this production it rings true. Having seen the musical in both New York and Sydney, local audiences can be well satisfied that nothing has been lost in the translation.
Esther Hannaford absolutely nails the role of Carole King. Beautiful follows her journey from awkward teenage prodigy with loads of chutzpah who turns up to a 'song writing factory' in New York with her first hit tune, through professional and personal drama, that gives birth to her solo album Tapestry, which conquers the world.
A common experience of a member of the audience is surprise that one artist could be responsible for such a diverse range of hit songs. No Kylie Minogue didn't write "The Locomotion" - it was composed by King and her husband lyricist Gerry Goffin. Many other similar surprises delight theatre goers.
Whilst the songs don't always advance the story or pack an emotional punch, they are sprinkled with pitch perfect timing into the story. Beautifully dressed black American pop stars glide in and out of the gleaming gold painted song writing factory to sing the sweetest of pop songs. All Australian local talent has been found to play these uniquely American ethnic characters.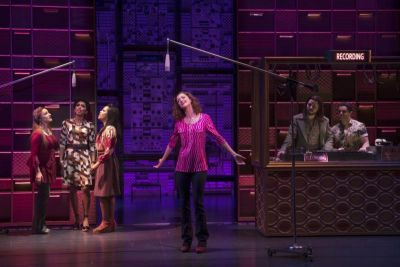 What makes the story compelling is King's relationship with her philandering, brooding, mentally anguished husband Gerry Goffin (played elegantly by Josh Piterman) and the competition the duo face from song writers Cynthia Weil (Amy Lehpamer) and Barry Mann (Mat Verevis).
There are no Jersey Boys style brushes with crime but rather an insight into the song writing industry. It could have been on the dull side if not for the journey that Carole King goes through.
After composing songs for others, she finds herself a single mother with two children with an album of music that did not suit any other artist. Carole King does not fit the glamorous mould of the pop industry but stepped up to the plate.
Her ordinariness became a strength as her songs touched a tapestry of common emotional anguish.
Beautiful is a beautiful and compelling night in the theatre.
David Spicer
Photographer: Joan Marcus