Music by Andrew Lloyd Webber, book and lyrics by Ben Elton. Manilla Street Productions. Directed by Karen Jemison. Chapel off Chapel, 12 Little Chapel Street, Prahran.13-29 September, 2019
Revisiting the troubles in Northern Ireland via the musical The Beautiful Game is a timely choice given the volatile and fragile nature of the peace agreement, especially due to Brexit. This production is a moving reminder of the horrific realities this political conflict produced and the lives it has wasted. John (Stephen Mahy) and Mary (Stephanie Wall) are played with a child-like innocence which contrasts well with the transformation into hardened adults that they make throughout the show. Mahy's expression becomes visibly sinister as he is reluctantly but adamantly recruited into the IRA.
The performers and musicians bring Webber and Elton's compositions and lyrics to life in a highly accomplished manner. The vocal ability of the entire ensemble elicits some powerful emotions and they are particularly evocative when reflecting on the violence and hate generated by the troubles. Numbers such as "The Boys in the Photograph" capture the nostalgia of a lost youth perfectly and other highlights in the show include the performance of "Love in Peace"; a very charming duet between Bernadette (Nicola Bowman) and Ginger (Sam Skuthorp) which is beautifully supported by The Company.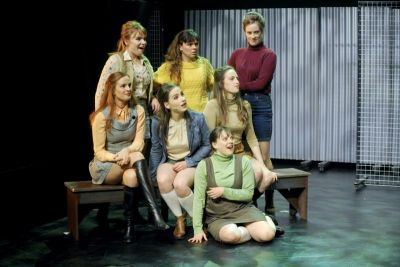 The stage design and direction is also well crafted. The choreography of the football match makes excellent use of space and dynamic use of movement. The energy and excitement of a game is well captured. However, at times the set becomes too literal and scene changes can seem too busy. The set was often at its best when it appeared sparse, such as the segment when the prisoners are released from jail. Daniel (Oscar Tollofsen) is portrayed with vigour and Tollofsen adds some great amusing antics to the role. Christine (Ellie Nunan) is also played with great spunk and vibrancy. This is a great opportunity to experience this classic musical in its pure form.
Patricia Di Risio
Photographer: Jodie Hutchinson