National Institute of Circus Arts (VIC). National Circus Centre, Green Street, Prahran. Director and Choreographer: Rob Tannion. 13-20 April , 2011.
Last night I saw Nanjing contortionist Li Lingling support her body weight with her teeth, while her head and gluteus maximusconnected, and she rotated fabric on her hands and feet. Next a pas de deux by Bo Yang and Hua Yongduring which she stood en pointeon his shoulders, and then on his head. I'm no circus expert and can offer no intelligent comment about technique and execution. Rather I am in awe of what some people can make their bodies do.
The National Institute of Circus Arts (NICA), an institute that offers Australia's only Bachelor of Circus Arts, is celebrating its 10th year, beginning with Beautifully Imperfect, featuring NICA's final year circus artists and performers and trainers from China's acclaimed Nanjing Acrobatic Troupe.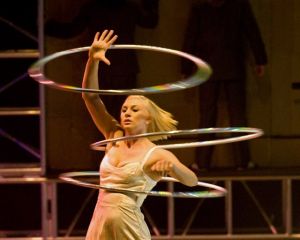 As in all art, contemporary circus is as much about dramatic tension as it is about skill. Dramatising a series of life events, the show highlights humanity's desire for perfection as an illusion, often with devastating consequences. There are laughs, when a woman has her partner jumping through hoops - literally, but this is predominantly a serious production.
Soft, warm lighting gives a timeless quality, like old yellowing photographs. These themes are both universal and timeless after all. Particularly beautiful was the manipulation of sound and light behind 'windows' late in the show.
Performances were impressive all round. Particularly eye catching were Reuben Zalme and Robyn Glowacki on Chinese Pole, Sam Aldman on Rope, and Staniforth Ricketson on Straps as well as for his engaging character performance.
Despite a few instances where the dramatic pace stalled a little, this is an astonishing and very entertaining show for thinking circus fans.
Lucy Graham
Photographer: David Wyatt