By Gina Gionfriddo. Ensemble Theatre, Sydney. Director: Anna Crawford. 25 October – 1 December, 2012
The chief attraction of this 2008 American drama is playwright Gina Gionfriddo's bruising, skidding dialogue. Apart from her theatre work, she's written (and often produced) for such popular television series as Law & Order, Law & Order: Criminal Intent and Cold Case. The fully-loaded, rapid-fire exchanges between her five restlessly unsympathetic characters keeps my head spinning: my opinion of each of the protagonists changes radically throughout the performance. Up close (as everyone is at the Ensemble) the actors are having a ball with this juicy material and their American accents are fine.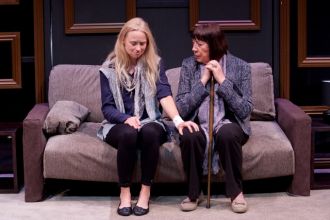 Act One is all setup. In a New York City hotel, student psychologist Susannah (Catherine Moore) is mourning her months-dead father. "You're infatuated with your grief," says her fearsome mother Susan (Sandy Gore), already off with a dodgy new boyfriend. Cuckoo in this dysfunctional family nest is cynical Max (Rupert Reid), adopted as a youngster and lusting after his 'sister'. Escaping to Rhode Island, Susannah marries would-be poet Andrew (Matthew Zeremes), who arranges a blind date between dry Max and pretty, apparently fragile Becky Shaw (Anna Lise Phillips), who is "in a transitional life space".
Their predictably disastrous date launches a far more fluid Act Two. Just as you get a bead on the characters, their motives, desires and likely outcomes, so Gionfriddo veers unexpectedly elsewhere. It's a bracing ride. "You think marriage and family require absolute honesty," says Susan. "They do not."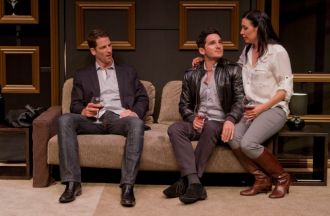 Under Anna Crawford's direction the acting is terrific — with standouts from Reid as the brusque, emotionally marooned Max, and Phillips as the painfully unhappy yet doggedly determined Becky. There's little help from Steven Butler's setting however, which gets the opening 2/3-star hotel room right enough, but adds nothing much to the following 8 differentiated scenes. The gathering narrative flow could well have done without an interval.
Frank Hatherley
Images: Catherine Moore and Rupert Reid; Anna Lise Phillips and Sandy Gore & Rupert Reid, Matthew Zeremes and Catherine Moore in Becky Shaw. Photographer: Steve Lunam