Book, Music & Lyrics: Bradley McCaw. Old Fashioned Production. Director: Neil Gooding. Musical Supervisor: Trevor Jones. Musical Director: Melfred Lijauco. Brisbane Powerhouse. 14-25 August 2019
New musicals are a difficult beast to master, but this new Australian work shows promise in its score, book and relatable characters. First time writer/composer Bradley McCaw has written about what he knows – his creative and personal life, and whilst it's flawed like most of our lives, most of us will relate to the personable problems.
An out-of-work 28-year old actor living on his own, with his brother as a couch potato, sets out to write a musical and we follow his path and his pain of trying to hold together a three-year-old girl-friend relationship, coupled with an allegiance to his single mother.
Neil Gooding's direction is first rate, as are the performances. It's well-sung, well-lit, and well-produced.
McCaw is the protagonist Bill. He's personable, relatable, plays an astonishing keyboard, and nails every vocal. But he's almost overshadowed by Oliver Sampson' younger brother James, who brings welcome laughs to a world awash with angst. His "No Feelings Today," when he doesn't want a conversation about touchy-feely stuff when they're having a 'beers and Cheers night' instantly evokes boys-bonding and hits the button.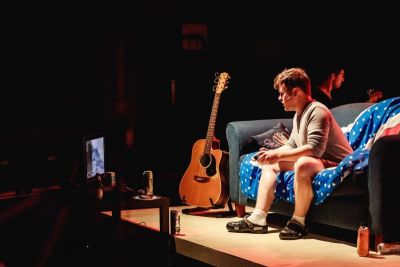 Stephanie Long, as the art-gallery girl-friend has some powerhouse vocal chops which were shown to striking effect on "Let's Not Have This Fight" and "Maybe We've Reached It All".
But the performance of the night was Rachel Beck's mother Jane. Tender and emotional, she projected the perfect motherly warmth and sang a heartfelt "Are You Happy?"
McCaw's orchestrations for keyboard, guitar, bass guitar and violin added a ton of colour to the show's musical palette, whilst Trevor Jones' vocal arrangements pleased with their harmonies.
The musical worked better when it was exploring the family dynamic or the on-again, off-again girl-friend story strand and would have benefited by more exposition of both. The lyrics were incisive but could have done with more wit, whilst the music had punch and bounce and was agreeable poppy.
Peter Pinne