Music and lyrics by Conor Neylon, book and lyrics by Jackson Peele. Fringe World. Directed by Jackson Peele, musical direction by Conor Neylon. The Gallery at Paper Mountain, William St, Northbridge. Feb 4-8, 2020
Capacity audiences have been joining 7C and their Physical Education teacher as they complete the Beep Test, in this relatively new musical by Conor Neylon and Jackson Peale.
A huge challenge for the performers, who spend much of the show extremely active and working up very realistic sweat, this short musical is a funny and sweet little surprise package, with endearing characters and a clever storyline. A lovely little twist in the tail takes this show to another level.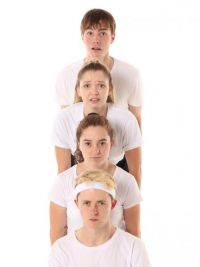 Having taught Yr 6 only hours before reviewing, the characterisations of these students were very age appropriate, which makes them especially likeable despite their flaws, with the occasional adult nod in the portrayal. Tim Ogborne nails the character of Zach, a football star, who is expected to achieve the highest result. Zoe Crisp shines as Jane, working very hard to knock Zach off his pedestal. Emily Wood is convincing as over-achiever Sandra, great at everything except physical education, while I think that many of the audience wanted to adopt Jack Keen's gorgeously awkward Cooper, with his sore shoulder, six overdue library books and embarrassing past. Jack Twelvetree is excellent as their teacher "Sir", also cleverly doubling in a surprise cameo.
William Gammel's simple set design (I love the floor work), transforms the gallery space to school gym, and the intimate setting invites the audience into the action. The music is fun and vibrant, and punctuated with some quirky and vivacious choreography.
The Beep Test received a well-deserved standing ovation at the performance I attended. A touching and impressive local show that deserves a further life.
Kimberley Shaw
Photographer: Matthew Lister