By Jaki McCarrick. Echo Theatre. Directed by Jordan Best. The Q: Queanbeyan Performing Arts Centre, Crawford Street, Queanbeyan. 24 – 31 August 2019
Ireland has trauma etched into its landscape. You can barely move without stumbling over the site of an ancient massacre or plaque commemorating heroes of the Troubles. A sense of injustice seeps through the ruins and stones like a heavy mist. That oppressive tone and a resulting spark of rebellion permeates Echo Theatre's production of Belfast Girls, as five women discover and bridle against the class politics that have given rise to their personal tragedies and drive them into extraordinary choices. Delicate, confident direction by Jordan Best brings out the empathy these characters deserve, giving space for their stories to echo, with grace notes of wry humour and building to crashing crescendos.
Set in 1849, Belfast Girls follows five women accepted into Earl Grey's orphan transport scheme, though the three months of the journey from Belfast to Sydney. You will need to acclimatise yourself quickly to the accent. I struggled initially, especially as the dialogue is delivered at breakneck Irish speed. There are moments during a storm scene where the speech is inaudible, but that can be fixed.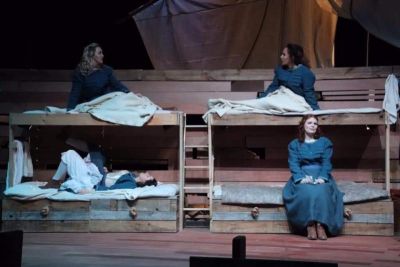 The first quarter is perhaps a little slow paced with a lot of interpersonal bickering and bawdy wit, but soon we start learning more about what traumas these women have suffered and personal histories they have hidden to survive. As Judith Noone, a mixed-race orphan with Jamaican and Irish parents, Isabel Burton is rational and pragmatic, exuding a natural leadership, settling fights, initiating political discussion and buoying spirits when they flag. Phoebe Heath plays the suspicious and distrustful Sarah with nuance—while she's not a likeable character, the audience nevertheless comes to feel for her as she relays her story with a stunned blank-faced recounting of fact recognisable as emotional dissociation: this is a very young woman prematurely hardened by trauma. Ellen and Hannah (Joanna Richards and Natasha Vickery) begin largely as comic relief and caricature but become fleshed out as the play progresses, especially Hannah whose drinking is obviously a coping mechanism. Lastly Eliza Jennings is excellent as Molly, who initially presents as quiet and vulnerable but reveals herself to be intelligent and surprisingly erudite. There are some quintessentially Irish moments which might go over the heads of non-Catholics, but close viewers should be able to work out what is happening.
This is a wonderful start for Echo Theatre, the Q's new company. Highly recommended.
Cathy Bannister
Photographer: Cathy Breen