Adelaide Festival. Bangarra Dance Theatre. Dunstan Playhouse. 15th – 18th March 2018
Woollarawarre Bennelong was an Eora man, from the Wangal clan in the Port Jackson area. In 1789 he was captured by order of Governor Phillip and taken to Sydney, essentially to enable the study of the "savage". However, Bennelong learnt English and became a crucial intermediary between his clan and the colonial forces.
In 1792, Bennelong was taken to London with another Aboriginal man, Yemmerrawanne, where they were met by the aristocracy and largely seen as a curiosity. Whilst in London they were dressed in society clothes and stayed in Mayfair where they were given lessons in reading and writing. Yemmerrawanne died of a chest infection and never returned to Australia. He was buried in Eltham, England. On his return to Sydney, Bennelong maintained contact with Phillips, even after re-gaining his freedom, finding himself inextricably caught between two cultures.
Bennelong begins as the lights come up on a suspended hoop which, when lit, resembles the full moon, creating a tranquil, watery shimmer on the shiny surface of the Playhouse stage. Enhanced by the mists that emanate from it, this sets the scene for the birth of Bennelong as he comes forth from his ancestral beings.
Jacob Nash's simple, almost minimalist design packs a punch, using a number of drops and projections to great effect; not least, a huge, blood on the sand, 1788. Nash's designs are seamlessly complemented by Nick Schlieper's lighting design.
The tranquillity of the opening sequence is soon interrupted by the arrival of the first fleet, during which, without use of set or other means, Schlieper's lighting creates a palpable sense of confusion, fear and panic.
Steve Francis's beautifully scored soundscape spans the traditional, the colonial and the contemporary and the use of portions of spoken work helps to give the piece a narrative. Likewise, Jennifer Irwin's costumes cross from contemporary, to period, to ethereal, all the while maintaining a great congruity.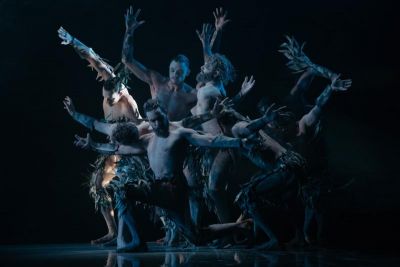 Beau Dean Riley Smith must be applauded for a strong performance as Bennelong, in what is a physically and emotionally difficult piece. He is well supported by all of the Bangarra dancers, but special mention must go to Daniel Riley in his role as Captain Arthur Phillip; tall, high-handed, but also confused and in some ways sympathetic toward Bennelong. Elma Kris gives a standout performance as the Spirit who sees all, mourning the loss of her people through invasion, plague and cultural clash.
Stephen Page and the Bangarra dancers have worked closely with Murawari Eora Man and cultural advisor, Matthew Lynch, as well as well-known Australian playwright and dramaturg Alana Valentine in bringing Bennelong's plight to the stage. This attention to detail shows throughout. The show brings us to an empathetic understanding of the plight of our First Nations people through the story of but one, one whose name lives on.
We are left to question, was Bennelong a survivor, a victim, a realist, an idealist? Was he damned if he did but also damned if he didn't? And how much has the plight of our First Nation peoples changed since 1788? Are they still caught between cultures as much as Bennelong was all those years ago? What can we all do to facilitate changing that?
The story is not a comfortable one to watch, but it is compelling, important and, in the way only really good theatre can, it stays with you long after the curtain comes down.
Jenny Fewster
Photographer: Daniel Boud