Writers/Composers Joel Ma and James Mangohig. Melbourne Festival and Arts Centre Melbourne. Fairfax Studio –Arts Centre Melbourne. 11 – 15 October, 2017
It is the generosity of spirit this work is imbued with that reaches out to us all. In Between Two is two stories of how two young 'hip hop' artists - Joel Ma who is half Chinese and half Pilipino James Mangohig - grew and developed into the charismatic men they are today.
The audience is kept on its toes as each story unfolds in turns, starting with the rarefied history of Joel Ma's extraordinary Grandmother Edith.
The bighearted openhandedness of these two performers; their capacity to understand, honor and support each other's stories with music is brilliant. All the while visual images are projected on two background screens.
Individual narratives of eventualities, achievements, mishaps and disappointments are related with humor and insight. Both growing boys somehow forged on regardless, even though surrounded by a hostile and unyielding racist Australian culture.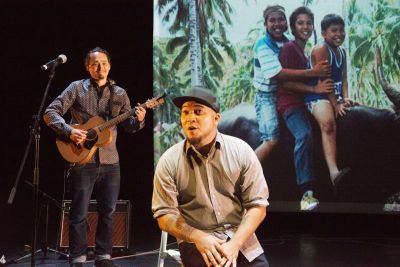 At times, family tensions and difficulties and risky transgressions of adolescence threatened to completely derail them, yet both managed to develop, grow and thrive, most particularly through their music.
Suzanne Chaundy's direction is pitch perfect. Everything moves at a beautiful poetic pace and there is nothing extraneous or unnecessary. Both performers appear totally comfortable in their skins, rendering us relaxed, open and available as audience.
William Yang and Annette Shan Wah's dramaturgy is flawless. Not surprisingly the extraordinary is brought to the fore but nothing is excessive or unnecessarily labored and spelt out. The touch is light. Moments of acceptance and observation offer the opportunity to commingle with ones own understandings and fuse into something that feels like growing wisdom.
What stays with us is the sense of joy, purpose and integrity that imbue these artists with vital valuable creative spirit.
Suzanne Sandow
Credits
Director Suzanne Chaundy
Dramaturges William Yang and Annette Shun Wah
Visual Designer Jean Poole
Stage/costume Designer Euygeene The
Lighting Designer Lucy Birkinshaw
Performers Joel Ma and James Mangohig
Photographer: William Yang.