By Ian Meadows. Griffin Theatre Company. SBW Stables Theatre (NSW). October 5 – November 17, 2012.
Griffin Theatre's latest offering Between Two Waves uses the issue of climate change as the central point for the plot to revolve around. But to think that this is a didactic play trying to prosecute the case for or against climate change would be a false assumption. This play uses the notion of an uncertain future as a way of highlighting our natural anxieties about what will or won't potentially go wrong - the glass half full versus the glass half empty theory.
Ian Meadows' writing contains enough information on climate science to make it a credible story without overloading the audience. This is a well-drawn picture of human frailty and at one hour 40 minutes it rolls along nicely under Sam Strong's steady direction.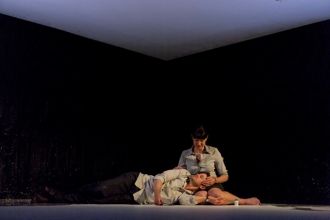 The four actors are a strong cast and turn in excellent performances. Ash Ricardo's Fiona is a standout as the upbeat counterpart to Ian Meadows' anxiety ridden climatologist Daniel.
David Fleischer's design decisions around this production are bold and confident, creating a set that is the physical manifestation of Daniel's angst. Steve Francis' sound also moves the story along, punctuating the story's emotional highs and lows.
It must be said that yet again Sam Strong has made a wise decision in programming Between Two Waves. It's a wonderful end to his stewardship at The Griffin as he heads off to the MTC. Sydney's loss is definitely Melbourne's gain.
Whitney Fitzsimmons
Images: Ian Meadows & Ash Ricardo and an Meadows & Rachel Gordon. Photographer: Brett Boardman.