Music & Lyrics by Andrew Lippa. Book by John August. The Therry Dramatic Society. Directed by Amanda Rowe. The Arts Theatre, Adelaide. 9-18 June, 2016
The Therry Dramatic Society's latest production is an enchanting fable that explores many deep and thought provoking themes - ageing, mortality, generation gaps, the quest for identity, the sacrifices required to ensure that love endures, the conflict between history versus mythology and the value of storytelling – thorough the prism of a fantastical hero's journey that joyously illuminates the absurdities of life. Big Fish is arguably the most accomplished work of musical theatre to have been staged in Adelaide during the last five years.
Ed Bloom (Andrew Crispe) is a living embodiment of The American Dream, a travelling salesman who spends his youth wandering the vast splendour of The Big Country, having many grand adventures. These include rescuing a mermaid (Ashlyn Wright) afflicted with a dark curse, saving a small town that quakes in fear of a temperamental giant (Scott Nell) and joining up with a circus run by a werewolf (John Rosen). All of this before distinguishing himself as a hero in World War II and romancing the most beautiful woman in the whole world (Rebecca Raymond).... well, that's the way Ed tells the story of his life, anyway... Ed's journalist son, Will (Lindsay Prodea) is sceptical of his Dad's tall tales about the glory days and resolves to find out the truth, before the old man dies of cancer.
All musicals contain an element of surrealism, but the magical and the mundane intertwine more seamlessly in Big Fish than in most shows, to the point where it is not always clear where one ends and the other begins. This could easily prove frustrating to those who prefer a story with a straightforward beginning, middle and end, or one with a clearly defined sense of internal logic. But if you are willing to surrender to the dreamlike flow of this show then it has many charms to offer.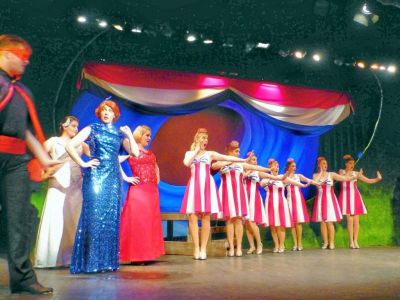 The boldy colourful sets and costumes contain a well-proportioned mix of the otherworldly and familiar, which fits perfectly with the story's "magic-realism". The eerily atmospheric lighting cues and deliberately off-kilter choreography also contribute to blurring the lines between the realms of fantasy and reality, in a manner that is often downright mesmerising to behold. But director, Amanda Rowe, never allows spectacle to detract from the human element of the musical, her sensitive blocking of scenes ensuring that both the laconic wit and poignant home-truths in the dialogue are given space to shine.
The cast embody these characters with technically impeccable singing, razor sharp comic timing, sometimes dizzyingly nimble footwork and a gloriously impassioned flair for drama. The ENTIRE cast, mind. From the leading players to the smallest bit parts, everyone on stage gives 110% in service of the story. To single any one individual out for praise over another strikes this critic as unfair, as far as I'm concerned, everyone treading the boards in Big Fish scores a perfect 10… (the names I haven't mentioned already – Fiona Aitken, Jemma Allen, Jillian Arthur, Blake Ascione, Josh Barkley, Oscar Bridges, Raymond Cullen, Michelle Davy, Nic Equid, Emily Fitzpatrick, Holly Fennell, Jared Gerschwitz, Heath Gladigau, Trish Hart, Kate Hodges, Megan Langford, Toni MacAdam, Mackenzine Price, Wendy Rayner, Andy Trimmings, Michael Preston Ward, Scott Whellum, Sarah Wildy – all have amazing moments, taken collectively this cast is an embarrassment of riches).
If Big Fish has a flaw, it's that many of Andrew Lippa's songs lack a strong hook. There aren't many hummable tunes in the show that are likely to linger in your mind long after seeing it. On the other hand, nothing sticks out as being obnoxiously awful either and Lippa makes skilful use of underscoring, ensuring that the transition from speech to song is always smooth.
Therry ought to be applauded for taking a risk with unfamiliar material, especially when it pays off so handsomely as this. Big Fish is a must-see event for all truly adventurous musical theatre buffs.
Benjamin Orchard