By David Williamson. Ensemble Theatre. Directed by Mark Kilmurry. January 18 - March 16, 2019
The question posed every year by David Williamson's annual World Premiere productions at the Ensemble Theatre is has his latest play earnt its stripes on the quality of the work or his famous name? The answer in 2019, for play number 54, is that The Big Time is one of his best in recent years, likely to delight the company's traditional audience.
On opening night the audience and cast were at one, laughing at the jokes which bounced off the walls from the unique scenario of actors playing actors and other creatives. It did not feel like naval gazing but came across as fresh and witty.
It's a field that Williamson (now aged 76) has intimately lived in for decades and it felt very comfortable for him to write about. For those in the Performing Arts, however, the play is at times uncomfortable viewing, as several of those characters were penned caustically.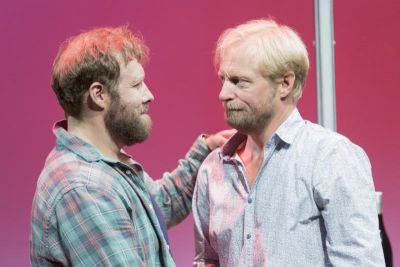 The central conflict is between Celia Constanti (Aileen Huynh) and Vicki Fielding (Claudia Barrie), who attended NIDA together. Williamson's message appears to be that in industries with ruthless competition true friendship is not possible.
Celia is coasting along as a star in a soapie which she prefers to call an on-going drama series. Vicki has been doing her time in independent theatre and challenges her friend to stretch herself.
The rivalry between the two spills over into fireworks which has jaw dropping intensity.
Apart from the poisonous NIDA alumni the other characters are very likable. Rohan Black (Jeremy Waters) is a struggling writer who hilariously blows a chance to pitch a script to a producer because he is insulted at the venue for the meeting. Nate Macklin (Matt Minto) adroitly moves from asshole producer to wise counsel.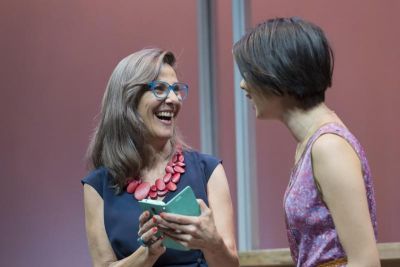 The agent Nelli Browne (Zoe Carides) felt so authentic it felt like she had just walked out of Shanahan's management.
But the most likable character is the only one not in the industry. Rolly Pierce (Ben Wood) is a middle aged man who has suffered every conceivable calamity when he pitches his friend a script idea. Williamson's surgical knowledge of the writing industry shines through as does the warmth of Wood's acting.
Director Mark Kilmurry achieved his ambitions to cast the play well and let the words fly.
David Spicer
Photographer: Brett Boardman